Stories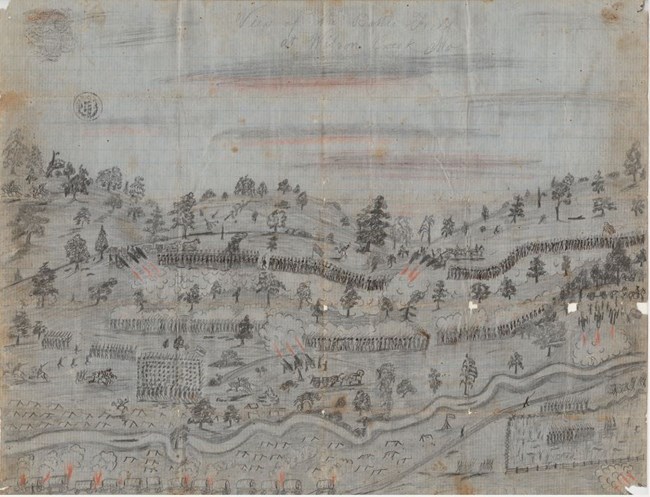 Follow the links for stories of Wilson's Creek
Brief account of the battle of Wilson's Creek
-
Though victorious on the field, the Southerners were not able to pursue the Union forces. Lyon lost the battle and his life, but he achieved his goal: Missouri remained under Union control.
General N.B. Pearce's Account: Arkansas Troops in the Battle of Wilson's Creek
-
"....[I]t was not until late in the afternoon that two 'loyal' ladies succeeded in passing out of the Federal lines, by permission of General Lyon, and, coming in a circuitous route by Pond Springs, reached General Price's headquarters with the desired information."
Col. Franz Sigel's Account: The Flanking Column at Wilson's Creek
-
"In this chase the greater part of our men were killed, wounded, or made prisoners .... I was not taken, probably because I wore a blue woolen blanket over my uniform and a yellowish slouch-hat, giving me the appearance of a Texas Ranger."
Captain William Woodruff's Account of the Battle of Wilson's Creek
-
"Only experience can qualify a gunner to determine what elevation to give his piece, to strike with certainty a particular object. It was a fortunate incident that our overshots were effective on the Federal lines and reserve behind. I fired the first shot and the others followed."
Medal of Honor Recipients of the Battle of Wilson's Creek
-
"We all wanted to have a whack at the Rebels before going home, and, as luck would have it, Company D, to which I belonged, along with Company E, were detailed by Lieutenant-Colonel Merritt to support Totten's Battery. This order brought us into a hand-to-hand contest with the enemy, and, although we were engaging a superior force, we four times repulsed them."
Military Medicine at Wilson's Creek -
Both Federal and Southern wounded were treated at a makeshift field hospital established at the John Ray house. After the house was fired on by Union artillery from Bloody Hill, Southern surgeons placed a yellow flag on the porch to indicate its use as a hospital and protect it from fire from both sides.
Slaves, Unionists, and Secessionists
-
The fact that a landowner owned slaves did not automatically make him a Confederate or secessionist sympathizer. Likewise, a landowner who did not own slaves was not automatically a Unionist .... Although both John and Roxanna [Ray] were natives of the South ... and owned slaves, they remained loyal to the Union.
The Ray House
-
Early on the morning of August 10, 1861, the Ray family quickly discovered that what started as a normal day would soon turn into a nightmare. Three of the Ray children, herding horses in the valley near the springhouse, were warned by a soldier on horseback that "there's going to be fighting like hell in less than ten minutes."


Last updated: August 20, 2020