Accessibility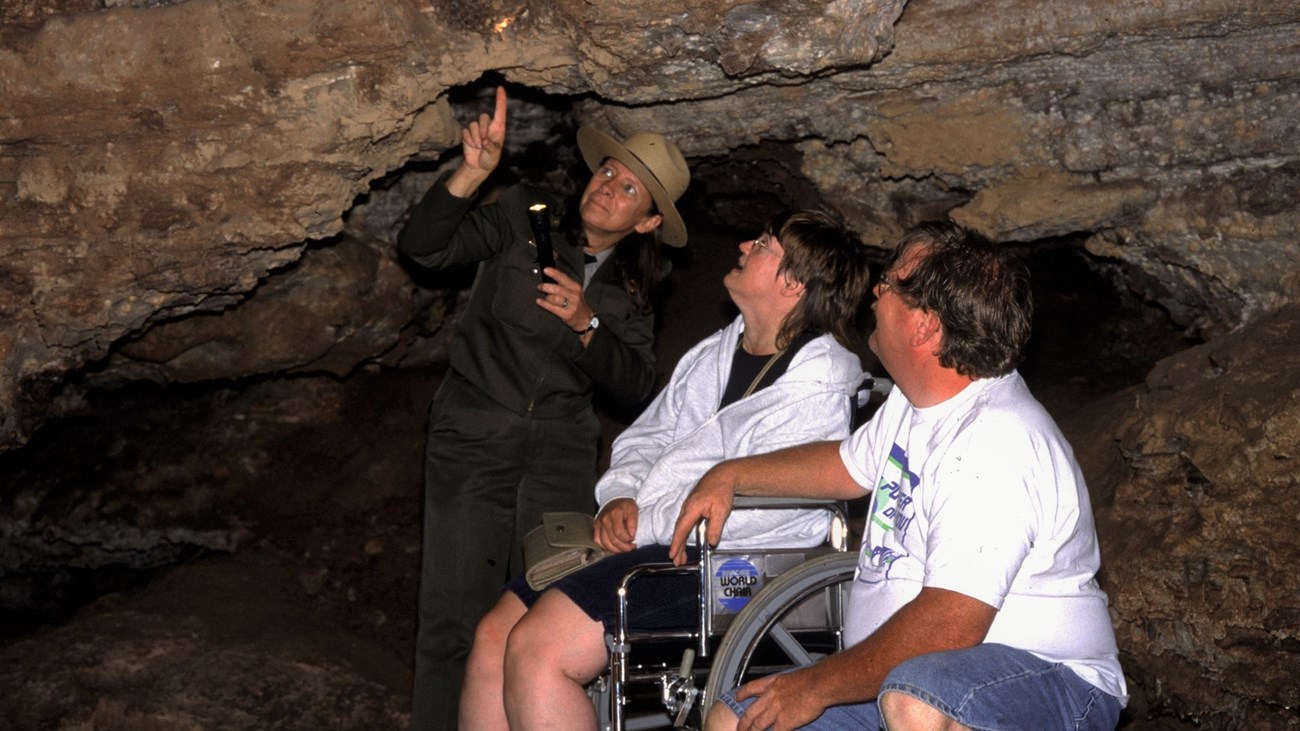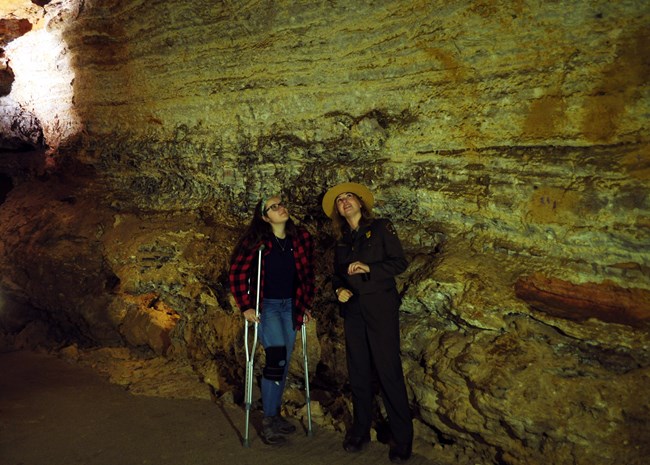 Facilities
Cave
Access into the cave is through ranger-led tour only. Accessible cave tours and special arrangements are available for those with limited mobility, vision and hearing. See information below regarding special tour accomodations. Please note that all cave tours with the exception of the Accessible Tour include walking, standing, bending, stooping, and climbing up and down stairs. Stairs can be strenuous, with anywhere between two and eight flights of stairs climbed in succession.
Accessibility Cave Tour
Limited areas of the cave are accessible to wheelchairs and those with limited mobility. These half-hour tours serve as an introduction to the cave and boxwork, the cave's signature feature, is shown. The tour includes riding the elevator into and out of the cave, and the elevator building is located about 200 yards south of the visitor center. Accessible parking is available at the elevator building.

Please call the visitor center at (605) 745-4600 to make arrangements or ask at the information desk for an Accessible Tour. The fees for this tour are listed on our Fees & Passes page.
Hearing and Vision Accomodations
Cave trails are dimly lighted, often narrow, and may be wet and slippery in certain areas. There are numerous stairs along all of the tour routes. Persons with vision impairments should be cautious when entering the cave. Bringing an extra flashlight could assist visitors with vision impairments see steps and ceiling areas better. Special arrangements may be made in advance for a special tour for visitors with special concerns.

For sign-language programming, please contact the park at least two weeks ahead of time to arrange accommodations. You may find cave tour scripts below.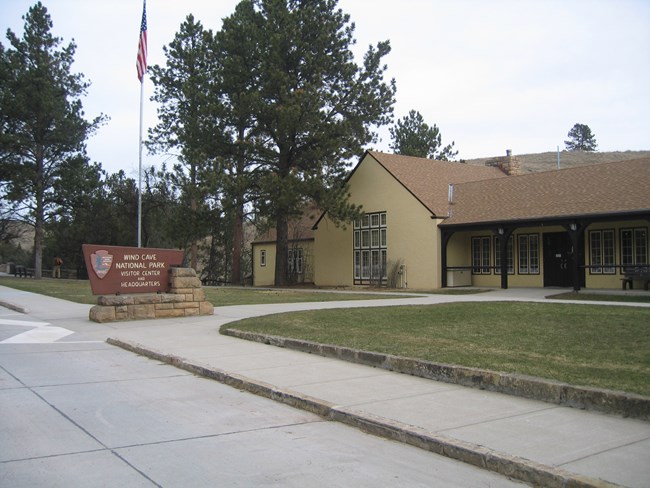 Visitor Center
The visitor center is accessible to wheelchairs and those with limited mobility. An elevator between the upper and lower level of the visitor center is available in the building. Exhibits are widely spaced to allow those using wheelchairs to move around the museum.

The park film shown in the auditorium features closed captions.

Campground
There are two wheelchair accessible sites, B2 and D3. For more information, visit the campground page.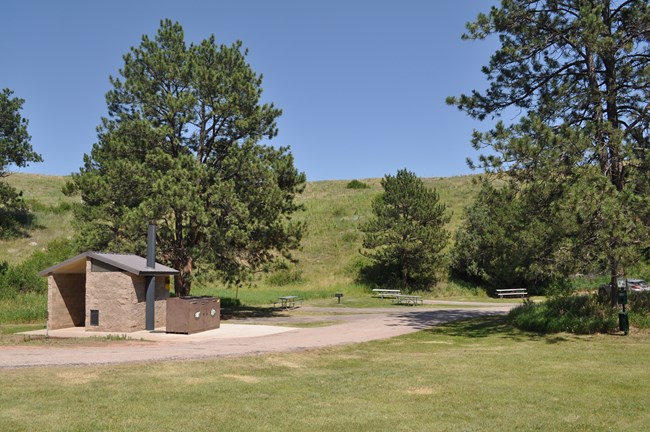 Picnic Area
The picnic area is located about 1/4 mile north of the visitor center and can be accessed via vehicle.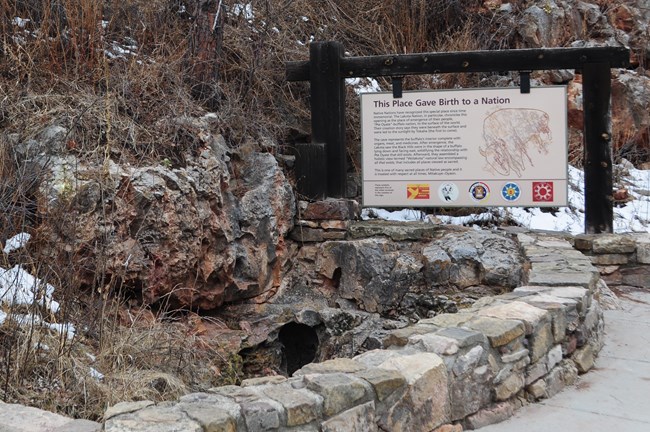 Natural Entrance to Wind Cave
Visitors using wheelchairs can visit the natural entrance of the cave . It is accessible via a ramp and sidewalk from the visitor center or from a wide gravel trail with a fairly level grade that starts at the picnic area.
Service Animals
The Department of Justice published revised final regulations implementing the Americans with Disabilities Act (ADA) for title II (State and local government services) and title III (public accommodations and commercial facilities) on September 15, 2010, in the Federal Register. These requirements, or rules, clarify and refine issues that have arisen over the past 20 years and contain new, and updated, requirements, including the 2010 Standards for Accessible Design (2010 Standards).This publication provides guidance on the term "service animal" and the service animal provisions in the Department's new regulations.
Beginning on March 15, 2011, only dogs are recognized as service animals under titles II and III of the ADA.

A service animal is a dog that is individually trained to do work or perform tasks for a person with a disability.
Service animals are defined as dogs that are individually trained to do work or perform tasks for people with disabilities. Examples of such work or tasks include guiding people who are blind, alerting people who are deaf, pulling a wheelchair, alerting and protecting a person who is having a seizure, reminding a person with mental illness to take prescribed medications, calming a person with Post Traumatic Stress Disorder (PTSD) during an anxiety attack, or performing other duties. Service animals are working animals, not pets. The work or task a dog has been trained to provide must be directly related to the person's disability. Dogs whose sole function is to provide comfort or emotional support do not qualify as service animals under the ADA.

Wind Cave National Park's Superintendent's Compendium states:
36 CFR 2.15 - Pets: (a)(1) All caves, hiking trails, and backcountry areas are closed to pets. Service dogs are allowed on paved cave trails if medically necessary. All public use buildings are closed to pets except for service dogs.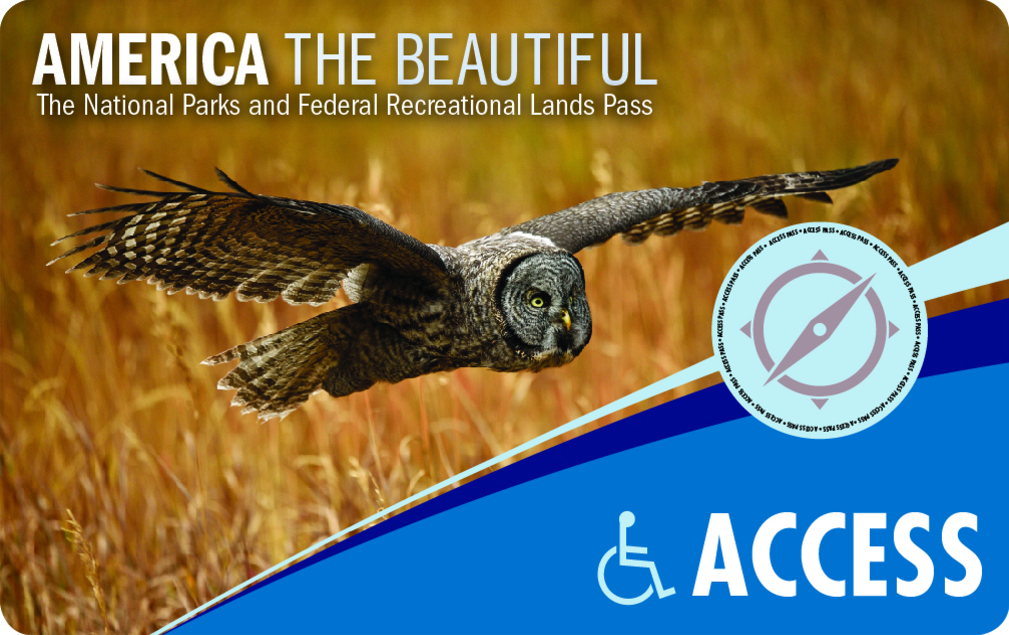 Access Pass
The Access Pass is available to U.S. citizens and permanent residents who qualify for federal disability benefits, as based on the assessment of a licensed physician. The pass is available for free at all federal fee areas upon documentation of qualifying factors (either presenting documentation or signing an affidavit).

Benefits available to holders of the Access Pass include the waiver of entrance fees for most parks, as well as discounts at some park campgrounds and some fees such as cave tours. The benefits of the Access Pass vary from park to park. Learn more about the Access Pass.
Last updated: September 5, 2023