Silent Sentinel Marks Fiftieth Anniversary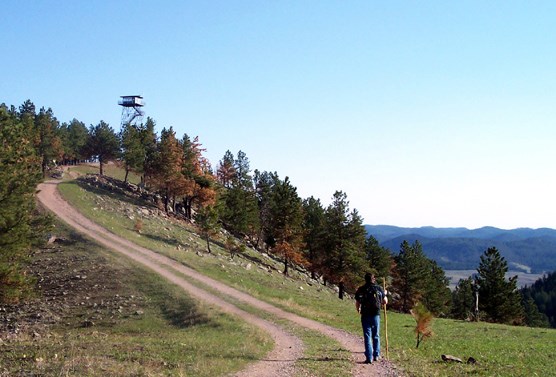 Date
June 08, 2006
Contact
Tom Farrell, 605-745-4600
This summer Wind Cave National Park is celebrating the fiftieth anniversary of the Rankin Ridge Fire Lookout Tower. The tower was constructed in 1956 to guard against the spread of wildfires. Commemorative events include an exhibit in the park's visitor center lobby celebrating the people and history of the 54-foot tall tower and an open house at the tower over the weekend of June 17th and 18th from 9 a.m. to 4 p.m.
The tower was last staffed full-time in 1998. Since then, public access to the catwalk around the tower and the inside of the tower has been limited. The public was last able to visit the top of the tower during the park's centennial celebration in 2003. Currently, the tower is only used sporadically to look for fires or to monitor severe weather conditions.
"This is a classic western fire tower," said the park's Chief of Interpretation, Tom Farrell. "I can remember climbing to the top of the tower with my family as a kid and watching the lookout explain how they mapped fires and did their jobs. Taking a hike on the one-mile self-guiding nature trail and visiting the tower with your family would be a wonderful way to celebrate father's day."
The park now relies on lighting strike maps generated by commercially operated ground-based sensors to show where potential fires might start. These locations are then monitored by fire crews on patrol to prevent the spread of wildfires.
"We will also have the tower's historical visitor log dating from 1973 to 1998 on display in the tower. People will be able to look back through the pages and see when they previously visited the tower, or they could just sign in for the first time that weekend," Farrell added.
For more information, call the park at 605/745-4600.
Last updated: July 31, 2017