Route to the Bottom of Wind Cave Passable for First Time in 5 Years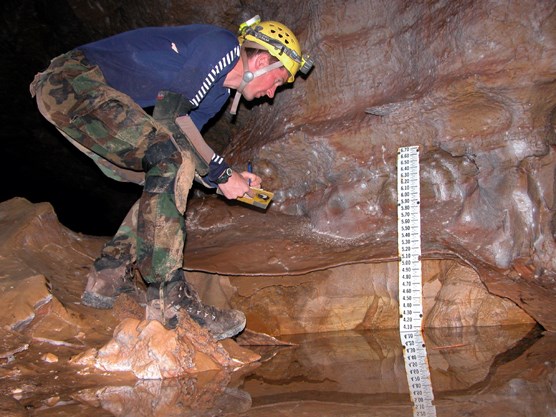 Date
September 10, 2004
Contact
Tom Farrell, 605-745-1130
One of the effects of Western South Dakota's drought recently became obvious hundreds of feet beneath the surface. Park employees on a routine work trip on August 19 discovered a small lake that previously blocked access to deeper cave had drained enough to squeeze past it. Once through this tight wet passageway, they were able to climb, crawl, and walk to the Lakes, the deepest area of Wind Cave at 490 feet beneath the surface. The last time cavers were able to access this area was in July of 1999.
Marc Ohms, trip leader and Physical Science Tech for the park, said, "Since this small body of water named "What the Hell Lake" suddenly appeared five years ago, we have been unable to reach a significant section of Wind Cave. Now that the route is open, we can continue collecting baseline data of our local aquifer in a time when more and more users are starting to draw from this body of water."
Even with the recent rains, Wind Cave National Park is still 4.8 inches below its fifty-year annual rainfall average. Over the past eleven years, water levels in the lakes have varied by as much as twenty feet. With the route now open, the cavers returned to the Lakes on September 2 and recalibrated the gauges used to record water levels.
Ohms added, "This is the only place in South Dakota where it is possible to see the water table. This unique situation makes it easier to collect data, such as the water level, quality, and even the age of the water. It also provides information about recharge rates and the lasting effects of droughts such as the one we are currently in."
For years the United States Geological Survey maintained a gauging station in the cave that has since been replaced by monthly trips to the Lakes by park employees to gather the data. The first lake was discovered by Herb Conn of Custer and David Schnute of Hot Springs in 1968. Since then, seven large bodies of water, all part of the Madison aquifer, have been discovered.
Wind Cave is the sixth-largest cave in the world and is also the most complex, three-dimensional maze cave in the world. While the Lake area is closed to the public due to the difficult and dangerous access route, over one mile of cave is open to touring.
Last updated: July 31, 2017