Prescribed Fire Planned for Rankin Ridge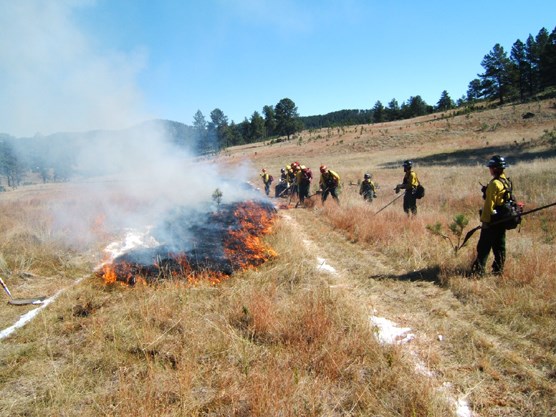 Date

September 22, 2005
Contact
Tom Farrell, 605-745-4600
Wind Cave National Park – Depending on weather and fuel conditions, fire officials at Wind Cave National Park plan to conduct a 1,231-acre prescribed burn this fall. The land to be burned is located in the park's northwestern corner, in the area surrounding and to the east of the Rankin Ridge Fire Tower. The burn could occur as early as September 30.
Linda L. Stoll, Park Superintendent, said, "The burn's primary purposes are to reduce accumulated fuel loads and overstory canopy cover, increase native grasses, and to reintroduce fire into the ecosystem."
This fire will occur in an area that is primarily ponderosa pine forest with some mixed-grass prairie. The burn will be conducted with assistance from other National Park Service units, Bureau of Indian Affairs, and other local cooperators.
The Rankin Ridge Fire Tower Road and nearby hiking trails will be closed during the fire. Smoke from the fire may be heavy at times and will be visible from the surrounding region.
There will be an open house to discuss this burn with park staff on Thursday, September 29, from 4 p.m. to 6 p.m. at the Visitor Center Auditorium.
This fire represents a continuation of the park's successful prescribed fire program which began in 1972. Segments of the park are burned each year, under controlled conditions, to simulate natural fires which historically burned the forest and prairie. Prescribed fires maintain the balance between forest and prairie, remove the buildup of dead fuels lessening the chance of a catastrophic wildfire, and rejuvenate the native prairie grasses.
Prescribed fires are carefully conducted under identified and approved prescription conditions. Factors such as humidity, fuel moisture, wind speed and direction, and short and long-range weather patterns are all considered in establishing the acceptable conditions for conducting a prescribed fire. If the prescribed set of conditions does not exist on a specific day, the planned fire is postponed. For this reason, it is impossible to predict the exact date for this prescribed fire.
Last updated: April 10, 2015