Park Serves as Outdoor Classroom for 20th Year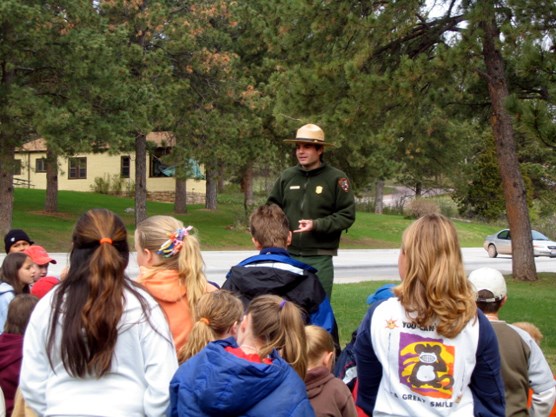 Date

May 11, 2006
Contact
Tom Farrell, 605-745-4600
For the 20th consecutive year, Wind Cave National Park is being used as an outdoor classroom for area students. Students in grades kindergarten though high school are studying prairie, forest, and cave ecosystems while learning from real- world examples. Developed in cooperation with local educators, the park's curriculum based environmental education program strives to help students understand broad concepts found in the natural world.
"This program allows students to take what they learn in the classroom and make observations in nature," said park ranger Mary Laycock. "We know we made the connection when their eyes light up and they exclaim 'Oh yeah, our teacher told us about that in our classroom'."
The program begins with a pre-visit packet mailed to the school introducing students to the concepts to be studied. Schools then visit the park, spending several hours exploring the prairie, forest, or cave and learning about topics such as adaptations in nature, fire ecology, or the importance of water in the environment. After returning to their classrooms, they complete a post-visit lesson plan. Each grade addresses different topics, allowing returning students to experience new material.
Ranger Laycock added, "We want to thank the local school systems for their support over these last two decades, especially the Hot Springs and Custer systems that have participated every year."
This year the environmental education season runs the month of May. Rangers expect around 750 students to experience the program this spring from as far away as Buffalo, Minnesota. For schools not able to visit the park, a traveling trunk with lesson plans on hydrology is available by calling 605-745-4600. Web-based lesson plans can also be found at www.nps.gov/wica.
Last updated: July 31, 2017