Park Seeks Comments on Black-footed Ferret Reintroduction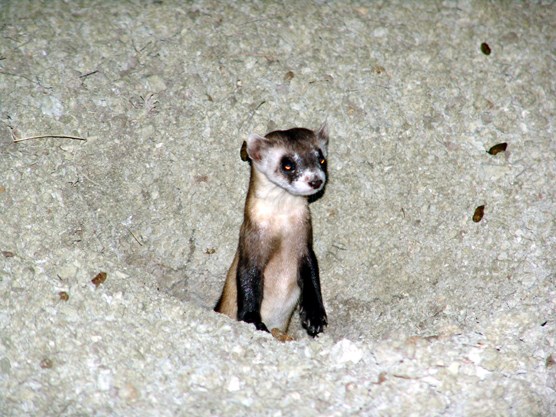 Date
July 13, 2006
Contact
Tom Farrell, 605-745-4600
Wind Cave National Park is initiating the planning process to prepare an Environmental Assessment (EA) written for the reintroduction of Black-footed ferrets. Currently, the endangered black-footed ferret is one of the rarest animals in the world. Its last reported sighting at Wind Cave occurred in 1977.
Ferrets were thought to be extinct until eighteen animals were discovered in 1981 near Meeteetse, Wyoming. Since then, the black-footed ferret captive propagation program has been one of the most successful conservation programs ever conducted, with over 300-400 animals annually available for release into the wild.
"Any ferrets reintroduced into Wind Cave National Park would be considered an experimental, nonessential population under the Endangered Species Act," said Park Superintendent Linda L. Stoll. "This reintroduction would not impose any changes on adjacent private land use or on land management operations outside the park."
During this early stage in the planning process, the park is seeking public comments to determine issues involved with the plan and possible alternatives. Comments received will be used to develop alternatives to be addressed in the EA. Once the alternatives are developed, there will be another comment period and an open house to review the draft plan.
Written comments can be mailed to Superintendent, Wind Cave National Park, 26611 U.S. Highway 385, Hot Springs, SD 57747 or sent via e-mail by visiting the website https://parkplanning.nps.gov/wica. The comment period runs through August 17.
Last updated: July 31, 2017