Park Kicks Off Centennial Celebration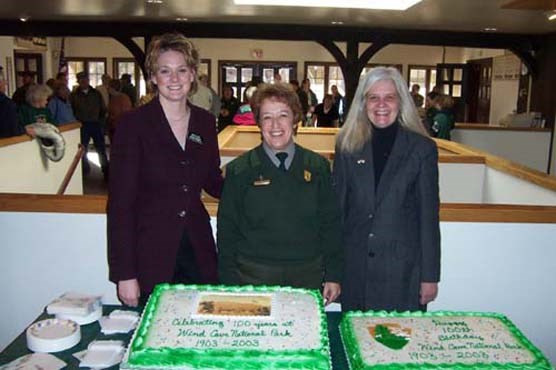 Date
January 10, 2003

Contact
Tom Farrell, 605/745-1130

An open house and a screening of the Disney movie "The Vanishing Prairie" began Wind Cave National Park's year-long centennial celebration on January 9th. The ninth marked the hundredth anniversary of President Theodore Roosevelt signing legislation creating what is now the seventh oldest national park in the country.
A crowded visitor center lobby heard Jackie Heier, Outreach Coordinator for Senator Daschle's office, read part of a proclamation entered into the Congressional Record recognizing the park's milestone and the role the park has played in protecting both one of the longest caves in the world and a remnant of a mixed-grass prairie. Cindy Tryon, Rural Tourism Manager for Governor Rounds, read a proclamation signed by former Governor Janklow proclaiming January 9th "Wind Cave National Park Day" which recognized the role the park has played in preserving significant resources while contributing to the area's economy.
Park Superintendent Linda L. Stoll spoke on the role national parks play in our society and how nearly six million visitors have toured the cave over the last one hundred years. Several former employees or area residents also contributed stories from earlier days.
With the cooperation of the Hot Springs Theater, there was a special showing of the Disney movie "The Vanishing Prairie" which was filmed at the park in the 1950s and later premiered at the same theater in 1954. These events begin a year-long centennial celebration culminating in the Centennial Weekend on June 13-15. For more centennial information, visit the park's website at www.nps.gov/wica/, or call the park at 605/745-4600.
Last updated: July 25, 2017