Park Helps with Bison Restoration Efforts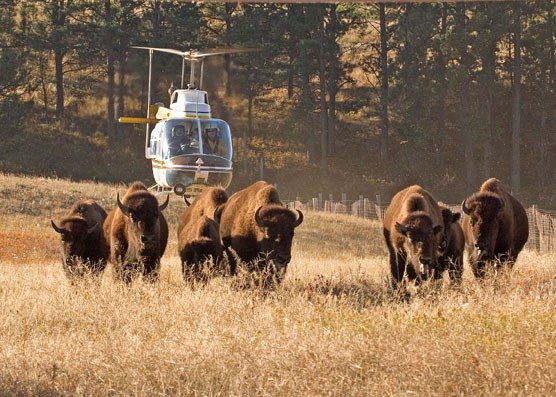 Date
October 21, 2005
Contact
Tom Farrell, 605-745-4600
Bison from Wind Cave National Park will serve as the founders for two herds being established by national conservation groups. The park held its annual bison roundup Monday and Tuesday, October 17 and 18, and culled 153 animals from its herd. Thirty-six of these animals are being sent either to the American Prairie Foundation in Montana or to a ranch in South Dakota run by The Nature Conservancy.
A recent study by Texas A & M into the genetics and health of ten federal herds found the herd at Wind Cave National Park to be the only disease free, genetically pure federal herd in the country. This herd is also known for its high genetic diversity within its animals.
Dan Roddy, Resource Management Specialist for the park, said, "The significance of our bison herd to us and the conservation groups is that it is brucellosis free, it has a high level of genetic diversity, and there is no evidence of cattle gene introgression. By helping these non-profit organizations start their own herds, it provides a safety net should something happen to the park's herd."
The majority of animals shipped out of the park are going to four American Indian tribes located in the states of Washington, North Dakota, and South Dakota through the InterTribal Bison Cooperative (ITBC), a non-profit organization located in Rapid City that represents approximately 50 member tribes.
Park staff, with the assistance of two helicopters from Nevada, rounded up 293 animals. The roundup is used to maintain the herd size at approximately 350 – 450 animals and to monitor the health of the bison herd.
All animals rounded up tested negative for brucellosis. Each animal also received a microcomputer chip and metal ear tag and the animal's size, weight, age, and height was recorded. Samples of tail hairs from calves and yearlings were taken to continue monitoring the genetics' of the herd.
Last updated: July 25, 2017