Park Emerging as Key Air Quality Monitoring Site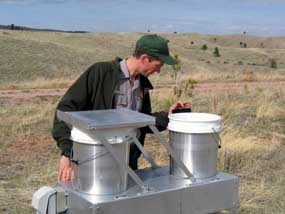 Date

April 30, 2004
Contact
Tom Farrell, 605-745-1130
With a recent upgrade of air quality monitoring equipment, and a proposal by the State of South Dakota to expand further the park's capacity, Wind Cave National Park is becoming a key site for the establishment of baseline air quality data for western South Dakota.
Wind Cave National Park is considered a Class I air shed under the National Clean Air Act of 1977. As such, this means very little additional air pollution is permitted in the park.
Air quality has been measured at the park since 1979. With the recent installation of a Clean Air Status and Trends Network (CASTNET) site in December 2003, Wind Cave began expanding its role as a watchdog for the region's air quality.
Used in conjunction with other national monitoring networks, CASTNET can help determine the effectiveness of national emission control programs. Recently, the State of South Dakota asked the park to host additional monitoring equipment, allowing for more detailed data collection.
Superintendent Linda L. Stoll said, "It is important while we still enjoy excellent air quality that we establish scientifically defensible baseline standards. The monitoring that is occurring in the park will document our current status and help insure the air we breath, and the scenic vistas that abound in western South Dakota, will remain unimpaired."
Currently the park is monitoring air quality for nitrates, sulfates, and ozone. These are primary causes of acid rain and visibility impairments such as regional haze. Wind Cave is one of more than 30 parks across the country, including Badlands National Park, to install this equipment.
Class I air sheds, such as those found in Wind Cave and Badlands National Parks, provide excellent locations to monitor for air quality degradation because of their pristine nature.
Last updated: July 25, 2017