Park Celebrates Centennial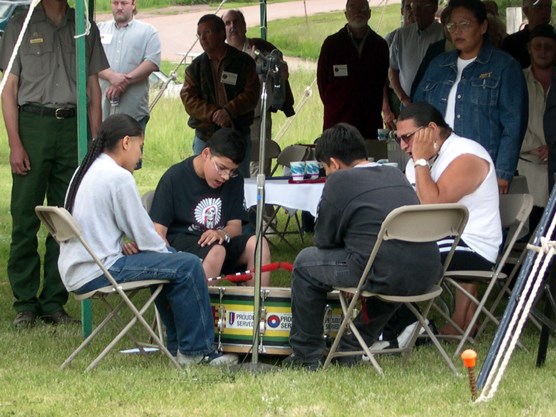 Date
June 16, 2003
Contact
Tom Farrelll, 605/745-1130
Wind Cave National Park Superintendent Linda L. Stoll described the weekend's Centennial Celebration of the park's establishment on January 9, 1903, as "a resounding success" with several thousand visitors attending the 3-day event. Park visitors, friends, neighbors, former employees, tribal leaders and other dignitaries associated with the park enjoyed cave tours, hikes, special interpretive programs, and natural resource and cultural demonstrations. Friday's events included an evening reception for the opening of the 100th Anniversary Birthday Art Show attended by 250 people. The show features local artists' works ranging from oils and pencil drawings to pottery pieces and woodcarvings. Immediately following the reception, park staff presented a program about the park's history using pictures, stories, and songs.
Cave tours on Saturday were free, and 1,470 visitors viewed the cave's fascinating features of frostwork, popcorn formations and delicate calcite box work that make Wind Cave one of the world's most unique cave systems.
American Indian and Mountain Man skill demonstrations featured both Saturday and Sunday included quillwork, beadwork, blacksmithing, and muzzle loading, to name a few. One of the more popular activities involved children crawling through a small box resembling a tight cave passage.
A Centennial Banquet Saturday evening at the Elk Mountain Campground drew 510 guests. In a moving ceremony to open the proceedings, the colors were presented by the Oglala Lakota American Legion, Post 281 from Batesland, South Dakota, and by the Civil Air patrol, Crazy Horse Composite Squadron from Custer and Hot Springs. Dennis King, Vice Chairman, Oglala Lakota Nation provided the blessing for the banquet, and the national anthem was performed by the Les Chanteurs from the Hot Springs School. The Thunder Ridge Singers from Pine Ridge performed the Oglala Lakota Nation Flag Song. Entertainment was provided with a portrayal of President Theodore Roosevelt by actor Case Hicks, and a singing, flute playing, and hoop dance performance by noted Lakota artist Kevin Locke. Seven tribal leaders were honored guests at the Banquet.
A highlight of the Centennial Celebration was an all-employee reunion, with 350 former Wind Cave National Park employees and their families in attendance. Former Park Superintendents serving back to the late 1960s visited the park, as did several Civilian Conservation Corp workers from the 1930s.
Superintendent Stoll thanked tribal leaders, park partners, staff and visitors for making Wind Cave National Park's 100th Anniversary such a success. "Having people from so many different backgrounds and cultures here to help us celebrate our centennial illustrates the many ways Wind Cave National Park as touched people over the years."
Last updated: July 20, 2017