Park Burns Twelve-Hundred Acres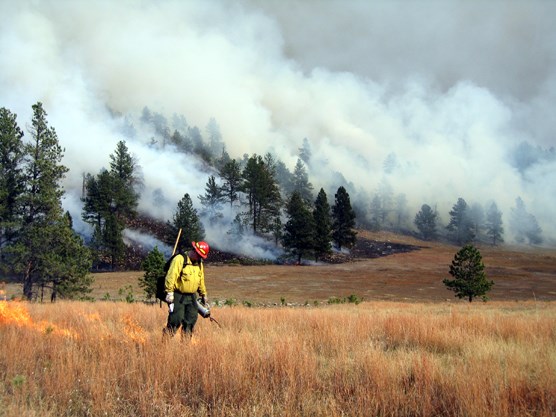 Date
October 26, 2005
Contact
Tom Farrell, 605-745-4600
Firefighters from around the region assisted Wind Cave National Park in conducting a 1,200-acre prescribed burn on October 25. The Tower Burn, one of four burns planned for the heavy timber area along Rankin Ridge, was ignited at 10:30 a.m. yesterday under clear sunny skies. Once the perimeter of the fire was burned out by crews using drip torches, a helicopter began dropping incendiary Ping-Pong ball-like devices to assist in igniting fuels in the center of the burn.
"We were glad to be able to complete this burn. Anytime you are using fire to reach resource management goals, you have to closely watch weather and fuel conditions. We wanted to burn it last year, but the conditions were never within prescription," said Linda L. Stoll, Park Superintendent. "In the coming weeks, our staff will be monitoring burn plots to see if we reached our goals of reducing the accumulated fuel loads and overstory canopy cover."
The area burned was primarily ponderosa pine forest with some mixed-grass prairie. The burn was conducted with assistance from other National Park Service units, Bureau of Indian Affairs, U.S. Fish and Wildlife Service, U.S. Forest Service, and the State of South Dakota, including an engine from Custer State Park.
This burn represents a continuation of the park's successful prescribed fire program which began in 1972. Prescribed fires maintain the balance between forest and prairie, remove the buildup of dead fuels lessening the chance of a catastrophic wildfire, and rejuvenate the native prairie grasses.
Last updated: July 25, 2017