Park Begins Spraying for Exotic Plants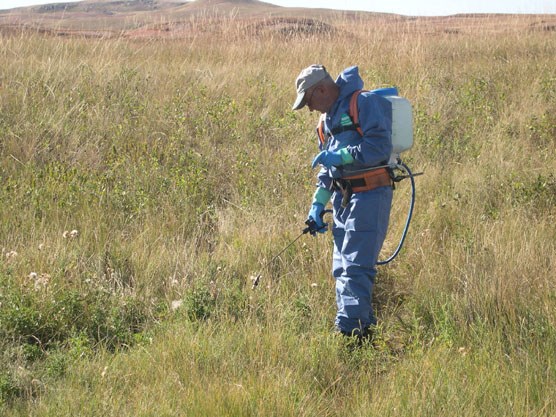 Date
October 06, 2005
Contact
Tom Farrell, 605-745-4600
As a result of the recently completed Northern Great Plains Exotic Plant Management Plan (EPMP) and Environmental Assessment, staff at Wind Cave National Park have begun using herbicides to control Canada thistle.
The Finding of No Significant Impact (FONSI) for Integrated Pest Management was recently signed by NPS Midwest Regional Director Ernest Quintana and Acting Intermountain Regional Director Mike Snyder. Their signatures marked the end of nearly two years of effort by 13 regional park service areas to develop an integrated plan for controlling non-native plants.
Park Superintendent Linda L. Stoll, "The intent of this plan is to manage exotic plants to reduce their negative effects on native plant communities and other natural and cultural resources within the park and surrounding area. While we will continue to use manual, mechanical, prescribed fire, and biological controls in sensitive areas, such as over the cave, the use of herbicides adds an important tool in the park's efforts to control a variety of non-native plants."
Integrated Pest Management (IPM) is a decision making process that coordinates knowledge of pest biology, the environment, and available technology to prevent unacceptable levels of pest damage, by cost-effective means, while posing the least possible risk to people, resources, and the environment.
IPM employs integrated management practices rather than a single solution, wherever technically and economically feasible. The treatment options in this plan include cultural, manual/mechanical, biological control, chemical, and prescribed fire.
The Northern Great Plains EPMP Environmental Assessment and FONSI can be downloaded from the project website at http://www.northerngreatplains-nps.com/. A printed copy may be requested by calling Chad Prosser at (701) 623-4730 x3578 or sending an email to chad_prosser@nps.gov.
Last updated: July 25, 2017