Park Aids Area Fire Departments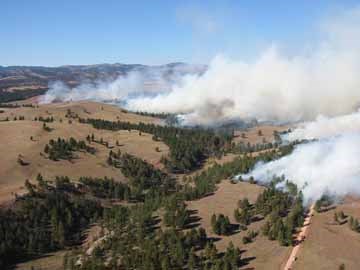 Date

December 12, 2003
Contact

Tom Farrell, 605-745-1130
"Immensely helpful," is how John Bachmeier, Captain of the Hermosa Volunteer Fire Department, termed funding received as part of the Rural Fire Assistance Program, a program designed to enhance wildland fire protection capabilities near Department of the Interior lands such as Wind Cave. Receiving part of the $9,000 aid, along with Hermosa, were fire departments in Argyle, Cascade, Oelrichs, and Pringle.
Caption Bachmeier added, "This is one of the main ways to help fund vital equipment that we need." As a result of this funding, one-hundred percent of Hermosa's brush trucks now carry foam units, making each truck three times more effective. Once vehicle costs are factored in, funding for many departments barely goes beyond keeping the fire hall's heat and lights on.
Bob Whitney, Chief of the Pringle Volunteer Fire Department, said, "Over the last two years we've gotten wildland gear including backpacks and shirts. It sure helps out a lot of fire departments that can't afford to get this gear on their own."
The Rural Fire Assistance Program is primarily designed to increase firefighter safety and enhance the fire protection capabilities of rural fire departments. This is achieved by assisting those departments in meeting or exceeding accepted standards of wildland fire qualifications, training, and performance.
Emphasis was placed on departments that protect rural communities and play a substantial cooperative role in the protection Federal lands such as Wind Cave National Park.
Congress approved the Rural Fire Assistance Program in response to the record-setting 2000 year wildland fire season and the increasing encroachment of communities into the wildland-urban interface – areas where fires can cause catastrophic damage.
This year's grant requests are due back to Wind Cave by March 31, 2004. Application packets can be picked up at the Wind Cave Visitor Center. For further information, contact Engine Foreman Kevin Merrill at (605) 745-4600. Chief Whitney added about the program, "It has really helped us out."
Last updated: July 25, 2017