One Deer Tests Positive for Chronic Wasting Disease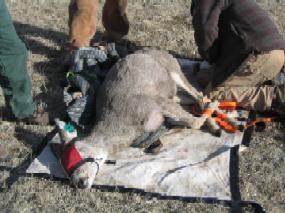 Date

January 30, 2004
Contact
Tom Farrell, 605-745-1130
One deer tested positive for Chronic Wasting Disease (CWD) and twenty-one tested negative as a result of samples collected in mid-January at Wind Cave National Park. Two additional deer samples were inconclusive reported the Colorado State University Diagnostic Lab in Fort Collins, which analyzed the samples.
The twenty-four deer that were captured, tested, and fitted with radio collars are part of a multi-year study being conducted by a Ph.D. student from the South Dakota State University (SDSU) in Brookings. The study's purpose is to determine the park's deer population, density levels, movement patterns, and CWD prevalence rate. Currently, 40 radio-collared deer are being tracked as part of this study.
Park Superintendent Linda L. Stoll said, "We are encouraged that only one animal, out of twenty two, tested positive for this disease. The animal with CWD will be located and euthanized to prevent the spread of the disease."
Since 1998, seventy deer and seven elk in the park have been tested for CWD. Of those totals, five deer and one elk have tested positive for this disease which is similar to mad cow disease and thought to be caused by a "prion" or abnormal protein particle. Clinical symptoms of this fatal disease include loss of body condition and weight, excessive salivation, ataxia, and behavioral changes. How the disease is transmitted is unknown, although at this time there is no evidence CWD can be transmitted to humans.
Last updated: July 25, 2017