New Discoveries Make Wind Cave Fourth Longest in World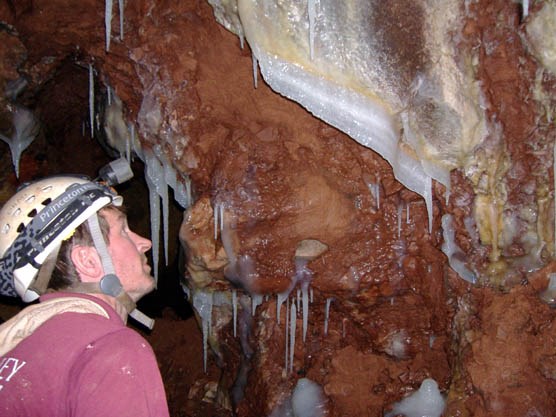 Date

February 16, 2006
Contact
Tom Farrell, 605-745-4600
Eighteen cave explorers surveyed over 3,500 feet of new passages on Saturday, February 11th, making Wind Cave the fourth-longest cave in the world.
Cavers from Colorado, Nebraska, and South Dakota brought the total distance surveyed in Wind Cave to 119.6 miles, pushing it past the former fourth-longest cave in the world, Hoelloch Cave of Switzerland.
The most significant discovery of the weekend involved large passages on the southwestern edge of known cave. Located just off "The Skinner", a two-hundred foot long belly crawl, one of the new passages contained a distinct breeze leading off into darkness. Explorers plan to return soon to continue surveying this discovery.
Physical Science Specialist Rod Horrocks said, "This is one of the greatest caves in the world, known not only for its massive length, but also because of its complexity, diverse cave formations, and the large amount of boxwork found in the cave."
Formal exploration of Wind Cave began in 1890 by 16-year old Alvin McDonald. Since then, over 1,000 people have surveyed in Wind Cave. In the process, they've discovered underground lakes, a room a half a mile long, branching helictite "bushes", and more boxwork, a calcite honeycomb formation, than found in the rest of the world.
McDonald wrote in his diary in 1891 that he had "given up the idea of finding the end of Wind Cave." This is a sentiment shared by modern cave explorers. Wind experiments conducted by Herb and Jan Conn of Custer in the 1960s reveal possibly less than 10% of the cave is currently explored.
For more information about exploring Wind Cave, visit
www.nps.gov/wica
.
Last updated: July 24, 2017