Karri Fischer Receives National Award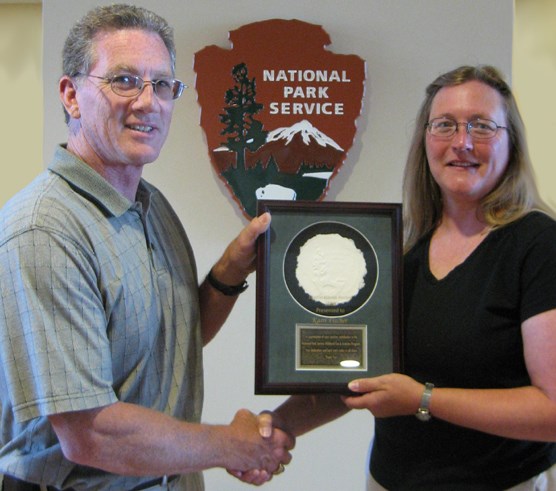 Date
June 16, 2006
Contact
Tom Farrell, 605-745-1130
Karri Fischer, Fire Program Management Assistant at Wind Cave National Park, was recently honored with the second annual Jeanie Harris Award at the Midwest Region Fire Management meeting in Omaha, Nebraska.
Nominated by her colleagues, Fischer's selection was based on the tremendous support she provides to the seven area parks in the Northern Great Plains Fire Management Area. She was instrumental in coordinating with interagency partners for fire management incident requests, updating firefighter qualifications for over 200 firefighters, and serving as the National Park Service representative to the interagency committee developing the Incident Service and Supply Plan for the Northern Great Plains Dispatch Center located at the Rapid City Regional Airport.
"The award was established to honor Jeanie Harris, a special person and a good friend of mine," said Park Superintendent Linda L. Stoll. "It is an honor to have Karri receive this award for her outstanding performance, dedication to teamwork, and her impeccable work ethic. Her knowledge and experience of the area and her job make her a valuable asset to this office, region, and the National Park Service."
Although recognized for these local efforts, Fischer's contributions to the national fire program were also noted. Besides being routinely called upon to review documents and procedures for the national office prior to their final release, she was responsible for developing a reference CD to aid fire programs nationwide. In addition, she served as an instructor for the introduction of new computer programs designed to track available resources.
Last updated: April 10, 2015