Hay Flats/Red Valley Prescribed Fire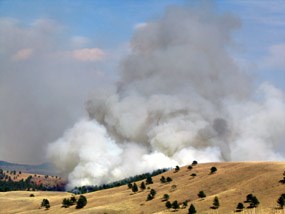 Date
April 23, 2004

Contact
Tom Farrell, 605-745-1130

Officials at Custer State Park and Wind Cave National Park were pleased with the results of a prescribed burn which occurred on April 15 in the Hay Flats / Red Valley areas of their parks. One hundred and seventy firefighters from eight agencies participated in the daylong event.
After a small test burn, which began around 9 a.m., firefighters carrying drip torches began lighting the eastern boundary of the fire. Once a suitable perimeter was burned out as a blackline, a helicopter dropped small plastic spheres, similar to Ping-Pong balls, which quickly ignited because of a chemical reaction taking place within the spheres. This technique of aerial ignition is faster and safer than using ground ignition crews. Smoke from the burn was visible throughout the southern Black Hills.
This 4200-acre burn, one of the Black Hill's largest prescription fires, was a cooperative effort between Custer State Park and Wind Cave National Park fire managers to reduce hazard fuel loads, perpetuate natural processes, and maintain and restore a prairie ecosystem. The burned area is surrounded by interior roads NPS 5, 6, CSP 6, and the Wildlife Loop Road and is along the parks' common boundary.
Over 170 firefighters from the South Dakota Division of Wildland Fire, South Dakota Department of Corrections, Custer State Park, National Park Service, U.S. Fish and Wildlife Service, Bureau of Indian Affairs, local area fire departments, and the United States Forest Service assisted with the burn.
Last updated: July 20, 2017