Environmental Assessment to Replace Cave Lighting System Available for Public Review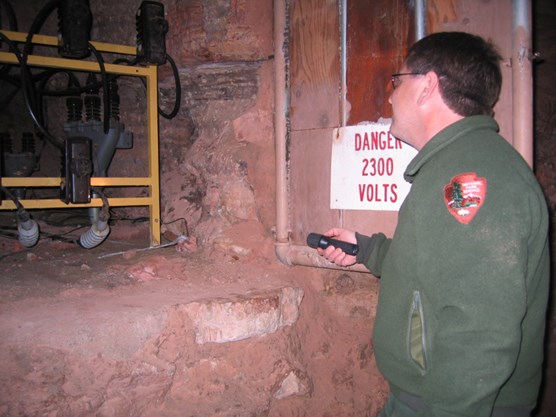 Date
May 13, 2005
Contacts
Tom Farrell, 605-745-1130
Phyllis Cremonini, 605-745-1131
Superintendent Linda L. Stoll announced today that Wind Cave National Park is soliciting public comments of an environmental assessment (EA) prepared for a project to replace the cave lighting system in Wind Cave. The lighting is used to display cave features and light approximately one mile of developed cave trails. The EA's comment period runs until July 1.
Superintendent Stoll said, "In this EA we are looking at two alternatives. One would leave in place the existing cave lighting system without significant changes to the maintenance or operation of the system. Our preferred alternative would replace the existing lighting system, including the power distribution system, lighting control system, and lighting fixtures, with a new system that meets current professional practices for operation and safety."
Planning for this EA began in April of 2004 with a notice requesting public input regarding alternatives or issues related to the proposal. Replacement of the current system could be completed during periods of low visitation over the next two years.
The public is invited to attend an informal open house at the Wind Cave VIP Center on Thursday, June 16, from 4 p.m. to 7 p.m. to discuss the plan with park staff and to comment on the alternatives. For directions to the VIP Center, stop at the Visitor Center or call the park at 605-745-4600.
The environmental assessment can be found on-line by following the links for Wind Cave National Park at https://parkplanning.nps.gov. Comments can be submitted via that website or they can be mailed to Superintendent; Wind Cave National Park; RR 1, Box 190; Hot Springs, SD 57747-9430. Printed copies of the EA are available for review at the Custer, Hot Springs, and Rapid City libraries and at the park visitor center.
Names and addresses of people who comment become part of the public record. If you wish your name and or address withheld, state this prominently at the beginning of your comment. All submissions from organizations, businesses, and from individuals identifying themselves as representatives or officials of organizations or businesses will be available for public inspection in their entirety.
Last updated: July 20, 2017