Elk Management Plan Set to Begin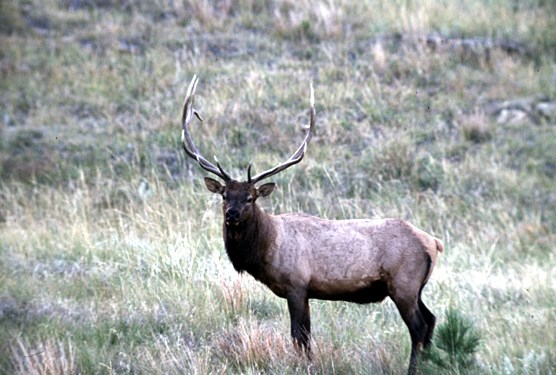 Date
August 04, 2005

Contacts
Tom Farrell, 605-745-4600
Dan Foster, 605-745-4600

A planning process to determine how many elk should utilize Wind Cave National Park, and the means to control that population, is about to begin with a series of public meetings across the state. This elk management plan/ environmental impact statement (EIS) is being developed in cooperation with South Dakota Game, Fish and Parks, the U.S. Forest Service, and the U.S. Geological Survey.
Dan Foster, Wind Cave's Chief of Resources, said, "In the past, the park used periodic roundups to gather elk and ship them to willing recipients such as tribes or other parks. With the threat of Chronic Wasting Disease (CWD) transmission, we can no longer ship live animals. This plan will be used to determine what the elk population in the park should be and how that population will be maintained."
During this early stage of the planning process, public comments are being sought on the purpose, need, and objectives of the plan; additional environmental issues to be analyzed; and alternatives to be considered. A series of workshops, including brief presentations on Wind Cave's elk management and the planning process, will be held across the state.
Facilitators will be on hand to encourage and record comments from participants. Park and other agency specialists will be available to answer technical questions.
Workshops will be conducted from 5 p.m. to 8:30 p.m., local time, with presentations at 5:30 p.m. and 7 p.m. nightly. Workshop locations and dates are:
Sioux Falls, Monday, August 22, at the SD Game, Fish and Parks Regional Headquarters on South Oxbow Avenue
Pierre, Tuesday, August 23, at the Best Western Ramkota on West Sioux Avenue
Rapid City, Wednesday, August 24, at the Best Western Ramkota on LaCrosse Street
Hot Springs, Thursday, August 25, at the Mueller Center on South 6th Street
Custer, Friday, August 26, at the Bavarian Inn Restaurant on Highway 385
Written comments can also be sent to Superintendent, Attn: Elk Management Plan, Wind Cave National Park, 26611 US Highway 385, Hot Springs, SD 57747, or faxed to 605/745-4207. Comments can also be sent via e-mail from the elk management plan link found at https://parkplanning.nps.gov/wica. Comments are most useful if received by September 9, 2005.
Individuals not representing businesses or organizations may request that their name and/or address be withheld from the record, which National Park Service will honor to the extent allowable by law. Once the draft plan is written, there will be another round of public meetings with a comment period to gather comments on the proposed alternatives.
Last updated: April 10, 2015