Elk Bugling Programs Begin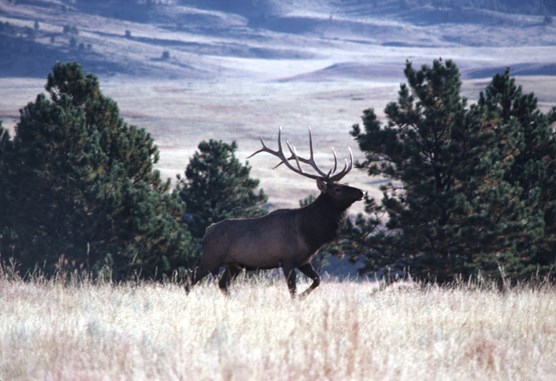 Date

September 01, 2005
Contact
Tom Farrell, 605-745-4600
The annual elk bugling season is in progress at Wind Cave National Park. This high-pitched whistle heralds the arrival of fall and the mating season of the Rocky Mountain elk. Local residents are encouraged to spend an evening in the park at one of the pullouts near a forested area listening for this autumn sound.
Starting September 6, rangers will be giving brief interpretive programs about elk before leading a caravan to a nearby pullout to listen for them. These programs will be offered on Tuesday, Thursday, and Saturday evenings through September 30. Participants meet at the Elk Mountain Campground's Amphitheater at 7 p.m. and are encouraged to bring a flashlight, a blanket to sit on, and to dress warmly.
Park Superintendent Linda L. Stoll said, "This is a great time of year to hike in the park and listen for elk bugling. We have thirty miles of hiking trails traversing canyons, ridge tops and prairie meadows. While elk can be hard to find, they are easier to see if you are away from any traffic noise."
The fall ranger program schedule also includes Natural Entrance Tours of Wind Cave. Participants are encouraged to bring a light coat or sweater and good rubber-soled shoes. The tour lasts approximately 75 minutes and involve 300 stairs, most of which are going down. The park visitor center is open from 8 a.m. to 6 p.m. through September 17 and open until 5 p.m. through October 15. The park's winter interpretive schedule begins on October 16 with three cave tours a day and visitor center hours of 8 a.m. to 4:30 p.m.
To hear a recording of an elk bugle, CLICK HERE (Windows Media Audio file, 138 KB, 4 seconds). For more information, call the park at 605/745-4600.
Last updated: April 10, 2015