CWD Study Begins; Starts Rare February Fire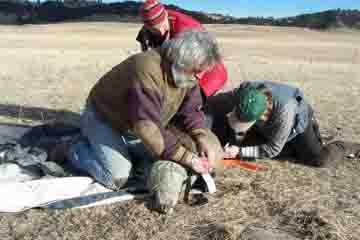 Date
February 21, 2003
Contact
Tom Farrell, 605/745-1130
Officials at Wind Cave National Park announced today that a 3-year Chronic Wasting Disease (CWD) study began Thursday with the testing and radio collaring of 17 deer. As a result of capturing operations, a wildfire began shortly after noon in Blacktail Canyon, located in the northeastern corner of the park. Suppression efforts began immediately, and as of 6:30 p.m. Thursday evening, the size of the fire was 185 acres with 100 percent containment. The fire is bordered on the western side by the road NPS 6, and is located totally within the park. The Blacktail Canyon Fire, as it was named, burned in steep terrain through ponderosa pine and mixed-grass prairie.
The fire is believed to have started from cracker shells, blank shotgun shells, used to move the deer out of forested areas onto the prairie where they could be captured by the helicopter crews. Burning embers from the shells may have started the fire.
Crews from around the southern Black Hills worked on the fire. At the height of suppression efforts, there were 60 firefighters and 4 engines or water tenders assigned to the fire. Crews working the fire were from the National Park Service (NPS), Custer State Park, South Dakota State Forestry, Department of Corrections, and United States Forest Service. There were no aircraft assigned to the incident other than the Bell 306 helicopter involved in the CWD study. Mop-up efforts will continue Friday with a favorable weather forecast calling for possible snow showers.
Wildlife researchers from the South Dakota State University in Brookings hope to test 40 deer for CWD as part of this study. Additionally, radio collars attached to the animals will allow researchers to determine the park's deer population, density levels, and movement patterns.
Last updated: July 20, 2017