Crews Battle Curley Canyon Fire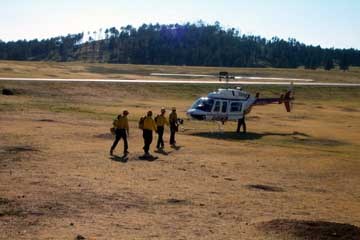 Date

August 27, 2003
Contact
Tom Farrell, 605-745-1130
Fire crews are busy suppressing a suspected lightning caused fire in Wind Cave National Park. The Curley Canyon Fire, currently at 5 acres, is burning in grass and timber two miles north of park headquarters near the Centennial Trail. The fire was reported at 9 a.m. by hikers who saw the fire while hiking along the trail.
Suppression efforts began immediately and included numerous slurry drops from two air tankers and water-bucket drops from a helicopter.
Currently, over 40 personnel from the National Park Service, US Forest Service, State Department of Corrections, and the South Dakota State Division of Forestry are working on the fire.
The fire was 40% contained as of 5 p.m. Tuesday. There is no estimation on when the fire will be fully contained. The hot dry conditions have increased the challenge of fighting this fire. High winds are expected tonight and will increase fire danger in the park and surrounding area.
Visitors to the area are encouraged to be careful with cigarettes and all burnable materials.
Last updated: July 20, 2017