Chronic Wasting Disease Study to Begin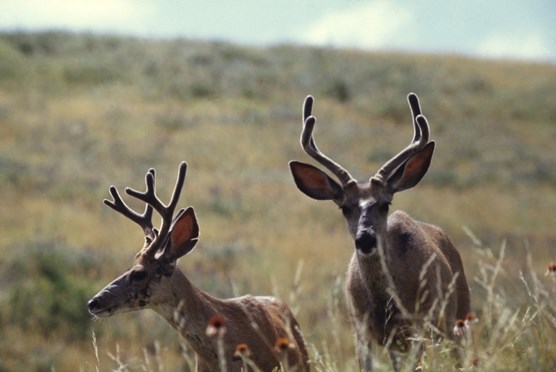 Date
July 19, 2002
Contact
Tom Farrell, 605/745-1130
Superintendent Linda L. Stoll announced today that funding has been received to begin studying the park's deer population as a means of learning more about chronic wasting disease (CWD). This disease, discovered last fall in a deer in southern Fall River County, and on adjacent parkland in 1997, is a fatal condition affecting the animal's brain and central nervous system.
Related to mad cow disease, CWD is believed to only affect deer and elk, and it is thought to be caused by an abnormal protein called a prion that attacks the animal's brain tissue. Symptoms include the loss of body condition and weight, excessive salivation, ataxia, and behavioral changes. Currently, transmission of the disease is believed to be through animal to animal contact.
The study at Wind Cave will improve knowledge of movement patterns and deer density levels within the park and study the potential of park deer to transmit CWD to other areas. This study is being conducted in cooperation with South Dakota Game Fish and Parks and South Dakota State University in Brookings, and it could take three to five years.
Dan Foster, the Park's Chief of Resource Management, said, "Although no CWD infestations have been found in park deer or elk, we hope through this study to learn more about movement patterns and the potential risk of transmission of the disease. This is just another example of Wind Cave National Park working with South Dakota Game Fish and Parks concerning wildlife management issues."
Originally found in northern Colorado and southern Wyoming, the disease has now been confirmed in eight states across the west and mid-west, and recently an infected deer was discovered in New Mexico, at least five hundred miles from any known occurrence of the disease.
Thousands of deer and elk across the country and Canada have been destroyed in hopes of stopping the spread of this disease that threatens parks, game farms, and hunting across the west. Stoll said, "We hope by the receipt of this $279,000 it will provide us the ability to study and learn more about this devastating disease."
Last updated: July 19, 2017