Cave Featured on PBS's NOVA Broadcast First Explored by Local Ranger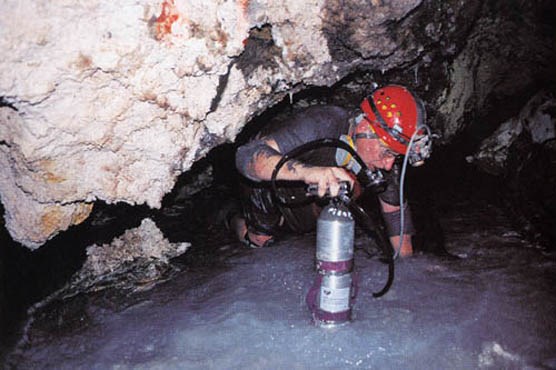 Date
September 27, 2002

Contact
Tom Farrell, 605/745-1130

This week PBS will broadcast "The Mysterious Life of Caves" featuring Mexico's Cueva de Villa Luz ("Cave of the Lighted House"), a cave containing extremophiles, microbes living in extreme environments. This cave was first explored and documented by Wind Cave National Park ranger Jim Pisarowicz during a 1986 expedition to Mexico. Pisarowicz, a world-renowned caver, and fellow seasonal ranger Warren Netherton explored Cave of the Lighted House during their off-season from working at Wind Cave.
"This was the oddest cave I've ever seen in my forty years of caving." Pisarowicz said. Approaching the cave, they saw a milky white stream of water flowing out of it. Once inside, they found a dangerous world filled with hydrogen sulfide gas, dripping acid with negative pH numbers, and a formation they named "snottites" because of their mucus-like resemblance to stalactites. Later testing revealed potentially lethal levels of hydrogen sulfide gas in the area they explored that day.
It was years before Pisarowicz convinced scientists to visit the cave. Further studies lead one publication to name snottites as the most radical science discovery for the year 1999, and scientists are just now realizing the potential medical benefits from these sulfur eating bacteria.
The NOVA program featuring these extremophiles is scheduled for showing on South Dakota Public Broadcasting at 7 p.m. on Tuesday, October 1, and noon on Sunday, October. 6.
Ranger Jim Pisarowicz will be presenting a special program, called "Dark Life," talking about his adventures in Cave of the Lighted House, on Saturday, October 5, beginning at 7:30 p.m. in the Wind Cave Visitor Center Auditorium. Admission is free. Call 605/745-4600 for more information.
Last updated: October 19, 2018