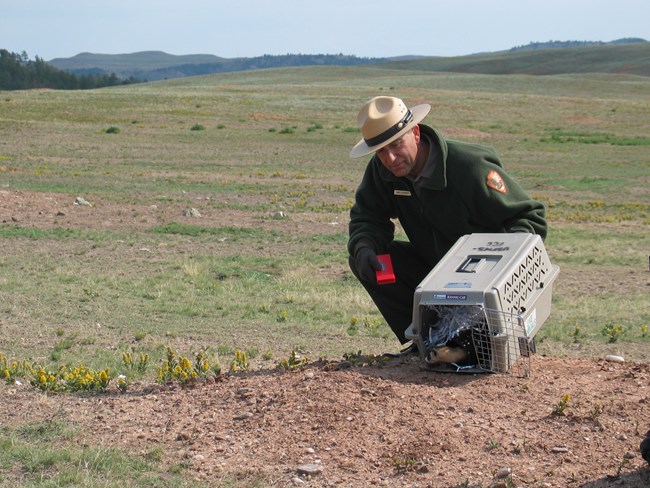 When Wind Cave was established as a national park, all the emphasis was on the cave. The underground scenery was amazing visitors and geologists alike. The cave's major feature, boxwork, had never been seen before. At that time the reason for creating national parks was to protect amazing scenery such as Yellowstone or Crater Lake not ecosystems like the prairie. The acres of prairie above the cave were the domain of ranchers and farmers.

It was not until the late 1800s when the debate over the demise of the bison was raging that habitats were discussed. People like Teddy Roosevelt and William Horaday knew that to save an animal from extinction one had to create sanctuaries for them. Their newly created American Bison Society began searching for a preserve for these "ungainly beasts" and discovered Wind Cave National Park's mixed-grass prairie. Through their efforts Congress established the 4,000 wind Cave National Game Preserve in August of 1912.
The reintroduction of the animals began the following year. Today the park is a wildlife watcher's paradise. Herds of shaggy bison roam freely in the park.

Bison share the landscape with a variety of other animals such as elk, pronghorn, deer, coyotes, prairie dogs, black-footed ferrets, and mountain lions as well as nearly 200 species of birds. Explore the park; drive the back roads; hike the trails; and enjoy the amazing array of wildlife living in this remarkable national park.
Explore Wind Cave National Park's story of restoring wildlife:
Conservationists and Hunters Rally
Trials and Tribulations of the Pronghorn
The Future of Wildlife Management