Sanson Homestead

The prairie is a harsh environment. Extreme variations of temperature, moisture, and wind are always present. To eke out a living on the prairie one must be ready to meet these conditions head on, and Carl Sanson was the type of person to do just that. He and his family successfully homesteaded a large plot of land that is now part of Wind Cave National Park.

On this land, he was able to adjust to the harsh, ever-changing conditions nature threw at him and survive. He endured by being able to adapt, to change with the times and conditions. The homestead of Sanson's father and later Sanson himself is testament to the tenacity of these early homesteaders and how they protected and cared for the land. According to Sanson "it took courage to live in a place eight miles from town [Buffalo Gap], with neighbors three to ten miles apart. There were many problems along the way - dry years, grasshoppers, hail storms, and range fires, but they endured them all."
Ranching in the Black Hills
Raising cattle was the major focus of ranching in the Southern Black Hills in the 1870s and 80s. Many large cattle ranches sprang up near the then thriving town of Buffalo Gap. The topography of the Southern Hills provided less severe winter conditions and promoted more robust livestock. The arrival of the railroad in Buffalo Gap in 1885 allowed these hardy cattle to be shipped to eastern and European markets. During these years cattle ranching flourished and then, just as quickly, collapsed. The seemingly endless prairie grasses were not endless. Too many cattle grazing in too little space and catastrophic weather incidents depleted the land.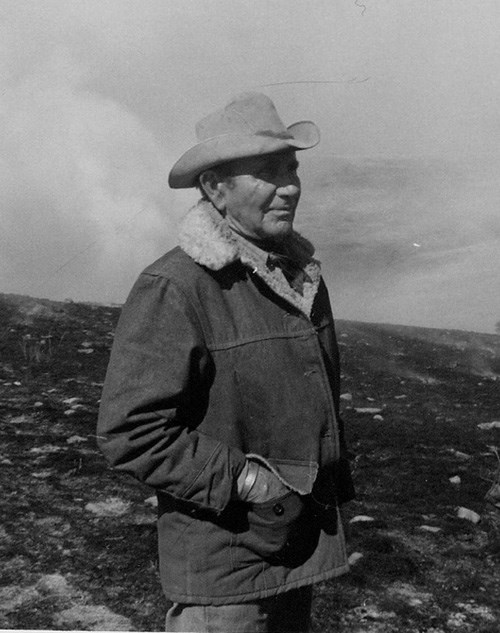 August Sanson started his homestead in 1882. In 1916 Carl, at the age of 15, took over for his ailing father. Throughout the years they adjusted to the ever-changing prairie and fluctuating financial markets. When the rains stopped coming, they adjusted. Often times in dry conditions, they and their neighbors moved their cattle to other ranges - some on the Pine Ridge Reservation and some as far away as the Badlands.

The Sansons understood that protecting the range was as important as protecting the livestock. Carl explained it in his memoir, "With care and no overgrazing, the grass is still here, which can't be said of some ranches. To overgraze the range will get you if you keep it up. We have sold out our cow herd twice in my lifetime when we had too long a spell of dry years but have always built back up when years were better."
Community Support
To survive on the frontier you not only needed tenacity, you needed a support community, and the local community was an important part of the Sanson story. In his memoir, Sanson wrote "Like any business, the ranching business has many problems that had to be solved the best way we could. …The neighbors were always ready to help anyone anytime; your troubles were their troubles. There couldn't be a better neighborhood anywhere. We always helped each other - if we didn't, a lot of us wouldn't have survived this frontier country."

Sanson's homestead started with a typical 160 acre plot of land. This was added to by August's marriage to Johanna Grashorn in 1888. Johanna and her sister had a nearby homestead which eventually became part of the Sanson Ranch. With future purchases, additional homesteads, and untimely deaths in the family the ranch eventually became 3,700 acres in size.
Tough Times
Dry years brought not only a depletion of the range, but dangers of prairie fires and the Sanson Ranch experienced two of them. In 1910 the Sanson home burned and the family lost everything. Much of the forested area of the ranch was burned in 1964. In 1982 Sanson lamented that that the timber was just coming back, but would not get big enough for corral poles in his lifetime.

After the 1910 fire, the family lived in the old home site often sleeping outside until 1918 when they rebuilt the ranch house. Carl and his brother Adolph built the foundation out of native flagstone. Digging the basement took a lot of hard work according to Sanson, but money was tight so they did the work themselves.

The cost to build the five bedroom home came to about $3,000. They celebrated the completion of the house and his parent's 31st wedding anniversary on May 19, 1919 with 150 friends and neighbors present.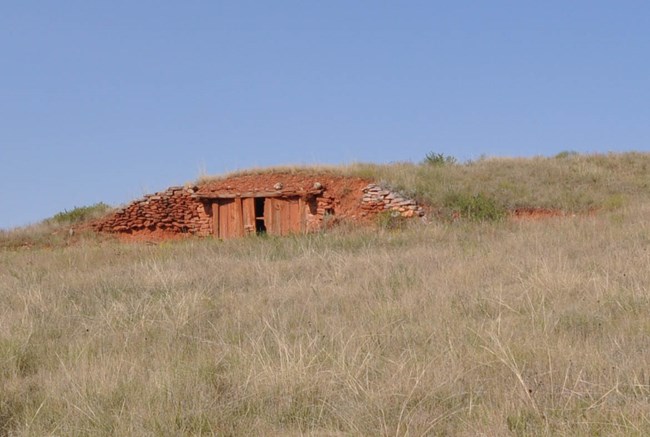 Remaining Buildings
The surviving buildings of the Sanson Ranch represent a way of life in Western South Dakota at the beginning of the 20th century. The barn demonstrates how each building had a specific purpose and was utilized to make the most of the modest supplies available. Various outbuildings show that a working ranch is more than just taking care of livestock before shipping them to market.

The oldest building, the chicken coop, remains from 1918. Though not all from the same era, these buildings demonstrate how ranching has always been a difficult way to make a living requiring fortitude, courage, and, at times, stubborness to fight against weather, land, and failure.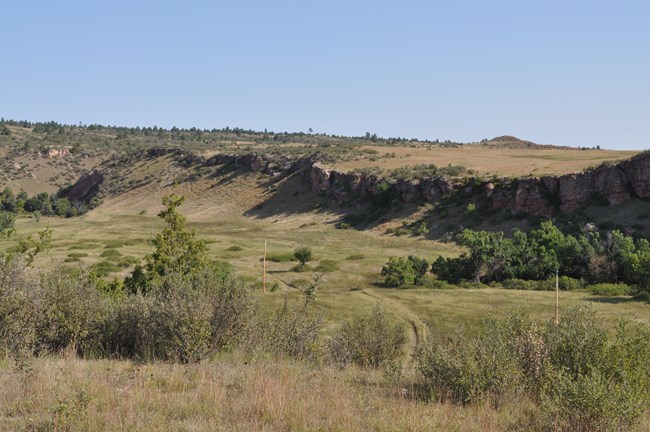 Sanson faced many hardships while ranching in the southern Black Hills ranging from terrible weather events to fires to personal tragedies. Sanson is one of the many hopeful settlers who dreamt of carving a living out of the Black Hills and managed to succeed.

Carl said of ranch life in the Black Hills that this was "next-year country." If things were bad this year, you hoped for things to be better the next year. The Sansons ran their ranch from 1882 until 1987; 105 years of surviving the hardships of ranch life.

Carl had strong feelings for this land and in 1987 explained his feelings: "After one year of high school I had to stay home and do the work here. I was 15 at the time and have been here ever since. I must have done something right because this ranch is clear of any debt and always has been. When I reach down and pick up a handful of dirt, I can say it is mine. To me there is a lot of satisfaction being able to say that."

In 1987 the Sanson Ranch was honored as being the oldest working ranch in Custer County. Carl Sanson was still using the "Lazy 96" brand that his father had used in 1882. Carl Sanson's life journey ended July 6, 1991.
Last updated: May 21, 2023