Early Cave Explorers (1881-1903)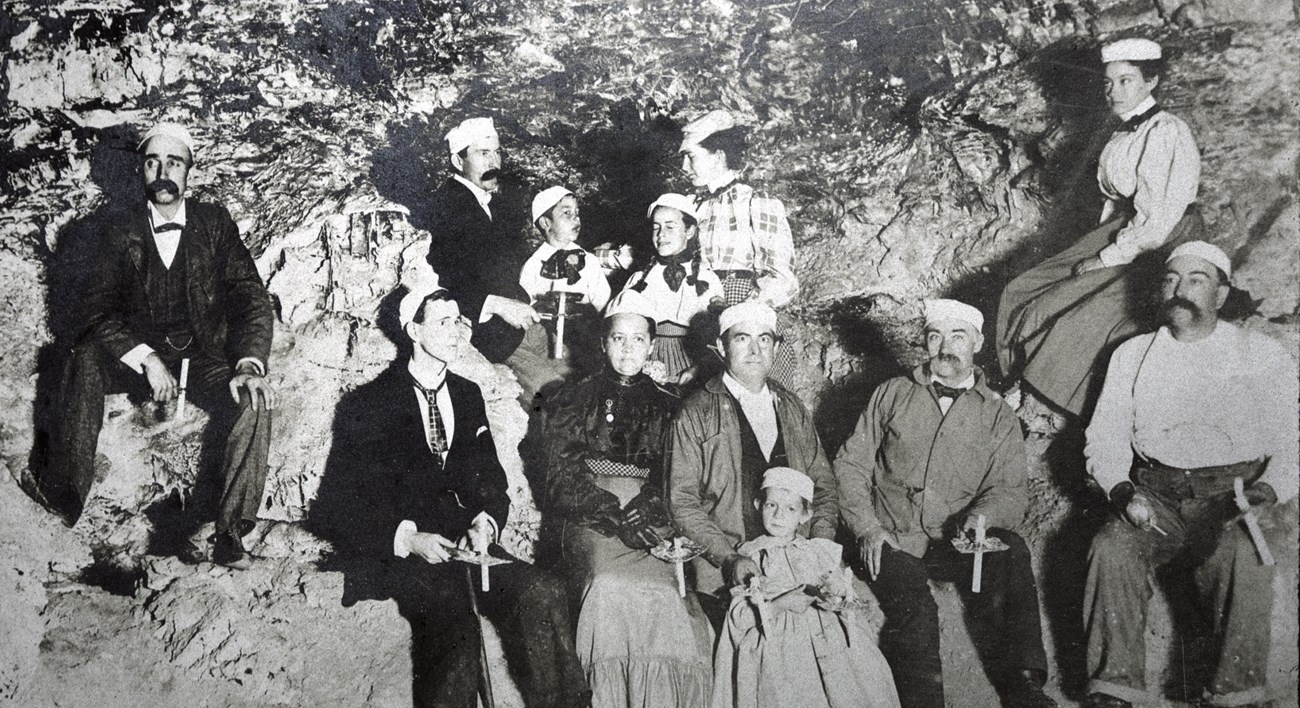 Wind Cave is a culturally significant and sacred site to the Lakota and Cheyenne, and to many other tribes that traveled in and around the area that would become Wind Cave National Park. Word of the cave's entrance spread among the native people as well as among settlers who arrived later, but there is no evidence of anyone entering the cave until 1881. Listed here are some of the first individuals and families involved in the early exploration of Wind Cave.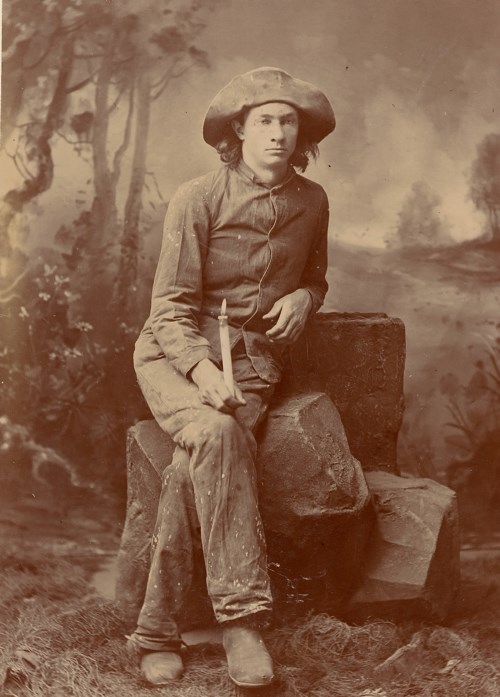 Alvin McDonald
Alvin Frank McDonald was born in Franklin County, Iowa, and moved to Wind Cave in 1890. His father, Jesse D., had been hired in 1889 by the South Dakota Mining Company to oversee the company's "mining claim". It is not known if the mining company expected to find minerals of value in the cave or just planned on developing it for tours. The McDonald family decided to attempt to make a living from the cave by developing it with enlarged passageways and wooden ladders and steps with the hope of attracting travelers from nearby Hot Springs.

Alvin fell in love with the cave and in the few years he lived here he systematically explored about 8-10 miles (13-16 km) of passageways. He kept a journal in which he described his exploration of the cave and the naming of the rooms and passageways. He explored the cave with candlelight and rolled out string to mark his way out of the cave. He shared his passion for the cave with visitors by becoming, in his own words, "the chief guide" at Wind Cave.

Alvin spent many hours almost every day for more than three years exploring and guiding within the cave. Once, after being out of the cave for two days due to an illness, he wrote in his journal, "am homesick for the cave". Alvin quickly realized the complex nature of the cave and wrote in his journal, "have given up the idea of finding the end of Wind Cave". He appreciated the beauty and natural features of the cave, but like others of his era, removed samples of cave formations to be sold to visitors. Alvin did have somewhat of an ethic, and would only remove samples from the cave in areas where he did not take visitors.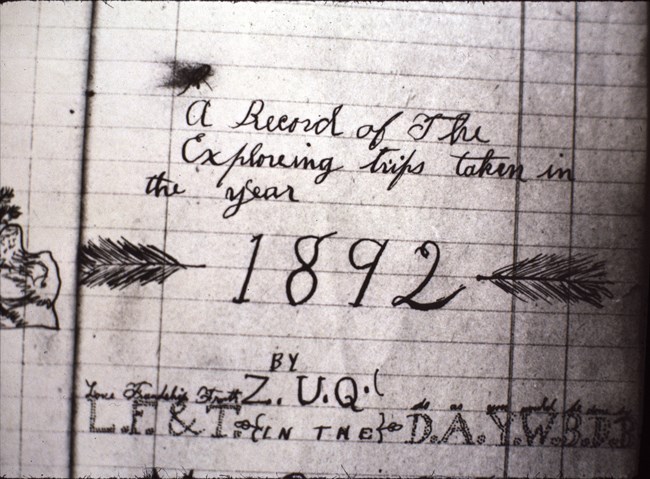 Alvin died of typhoid fever on December 15, 1893. It is believed he contracted the typhoid in Chicago during a visit, bearing samples of the cave, to the Columbian Exposition the previous summer. Some people speculate that continued exposure to the cool, damp air of the cave caused Alvin to yield to complications from typhoid.

Alvin was buried near the entrance to the cave he loved so dearly. A bronze plaque on a stone marks his grave. The grave, accessible by a footpath and a short climb, is located on a hill above the natural entrance to Wind Cave, 200 yards (182 m) north of the visitor center. Pictures of Alvin, mementos, and a copy of a portion of his Wind Cave journal are on display in the lower exhibit room of the visitor center.
Katie Stabler
Daughter of John and Lydia Stabler. As a young woman, she moved to the area with her family, where her father built and ran the Wind Cave Hotel near the natural entrance. Katie was the first woman to explore and give tours of Wind Cave.
I, Catherine Rose, was asked by the Superintendent of Wind Cave, S.D. to write my experiences while there as lady guide and explorer from 1891 through 1902 and the season of 1913 (cook and guide).
I became interested in Geology from a small square of striped sandstone my father, John Stabler, picked up at Chatanuga (Chattanooga), Tenn. in 1864. He had carried it through the end of the Civil War and gave it to me when I was quite young.
My father, John Stabler, one of five children, was born of George and Margret (sic) Stabler in a part log house (still there) near a mill pond near Mifflin, Junita Co., Penna. (sic) in 1847. His father owned a blacksmith shop. He died when Papa (John Stabler), the youngest of five, was quite young. His mother married Jake Meintzer and moved near Broadhead, Wisc. When Papa was 16 he ran away from home and joined the 7th Wisc. Cavalry. He was wounded at Chattanooga, Tenn. and discharged at end of Civil War.
He met my mother Lydia Raymer, daughter of a very religious family, of Rock City, Il. (1867-1866). They were married and had six children, all deceased except myself, three brothers older and 2 sisters younger.
In 1871, with their three sons, they went out west in a covered wagon where Papa acquired a grant of land from the government at MiddleCreek, Nebr. Near Melford where 2 of Papa's sisters lived on farms and also Mother's brother lived in Melford. The youngest son, only a baby, tumbled out of the back of the wagon while enroute. It was several miles later that they missed him. They retraced their tracks and found that someone had rescued him and were waiting for them. Papa was building a house and had not completed the kitchen. It still had it's dirt floor. Mother needed some soap and as she was about to step onto this dirt floor, she remembered she had some. Father saw a white flash, (it was night) and went over and killed a large rattlesnake. Then on morning, (while the kitchen was still being built) as she was starting breakfast on the outdoor fireplace, she reached for the frying pan and there curled up was a rattlesnake. Those were the dry years and grasshoppers came in clouds, they would settle on a piece of grain and eat it to the roots, lay their eggs in the ground and rise up in a cloud and fly to a fresh field. They left bare cornstalks and dry pits on peach trees. We lived on barley coffee which Mother roasted, game Papa shot and a very few groceries. Our folks back east sent us barrels of clothes, bedding, nuts and necessities. Papa was a carpenter walking five miles each way for $1 per day. Mother was a tailoress and made clothes for people. She also pieced a quilt of calico, some material from the Civil War days. This quilt is being handed down to my great-grand daughter. One morning while Mother was getting breakfast, she saw a prairie chicken on the fence and called Papa who grabbed his gun and shot it. She skinned it and had it cooking before it's muscles stopped twitching.
The youngest son, Raymer, died the summer of 1873 and I was born October 29, 1872. The town of Middle Creek burned and all records were lost. I never got a birth certificate. When rebuilt it was named Pleasant Dale.
In 1874 we moved to Hastings, Nebr. where Papa and a Mr. Deisher went into the implement business. Country was new and crops good, lots of machinery was needed, so they made good. My two sisters were born here. While living here, I remember being sent to town on an errand. In the park, I witnessed and had to pass a man being hung.
They sold out in the fall of 1879 and moved to Lincoln, Nebr. where Papa started to make machinery in the prison with convict help. I remember attending the circus and riding on Jumbo's back. Also Jumbo being killed by a train and saving her baby elephant by throwing her over her back. It was at this fair that Papa had an exhibit of his machinery and had built a spiral stair case. The first of its kind and a great curiosity which drew large crowds. The Indian performances were next to his exhibit and they made me an Indian Queen. Also my cousin Harry Raymer age 3 months and weighing 33 lbs. was the prize winning largest baby. I took care of him one afternoon while mother and my aunt were shopping. He cried all the time they were gone and I had to walk the floor with him. I was sure tuckered.
Papa's buisness (sic) here was not a success as the convict help was not satisfactory and also the bank where Papa had his money went broke. (The bank president absconded with the money).
We bought a home in East Lincoln and Papa went on the road selling machinery. He made good, but wanted a buisness (sic) of his own. While here I remember the blizzard of 1888. We went to school a mile from home and it had started to snow after lunch. By 2:30, traffic was stopped. Our teachers had all children living in one direction take hold of hands and walk in middle of road. Schools in country, teachers, and children stayed in school, breaking up furniture to burn. Others started out with the children and not reaching home, some died, others climbed into haystacks to keep warm.
The next fall after the blizzard of '88, we moved to Chamberlain, S.D. and ran a hotel, The Brule. The Sioux Indian track of land was being opened for homesteads by the government. Before the rush for these government claims our house was full all of the time. The winter of 1890 and '91, the last Indian war, the Battle of Wounded Knee, every woman and child who could afford to go, left until the battle was over. I remember one Saturday night twelve Indian chiefs stayed in our house until Monday morning as no trains left on Sunday and Chamberlain was the end of the line. We had a small room across the hall from the office where they smoked pipes and pow-wowed. They were great eaters. We left them in the dining room after all other guests were gone and then put everything we had cooked on the tables and they ate and ate. They got up and shook themselves and sat down and ate again. They were on their way to Washington to see the White Father and negotiate peace.
One morning word came that Sitting Bull was on the boat that just came in so everybody rushed down to see him. He was smart, shut himself in his cabin and charged people 50¢ to see him.
Not far from Chamberlain was Mitchell, S.D. where I remember visiting the Corn Palace, the only one in the world. Also took boat trips up the Missouri to the Crow Indian reservation and went to the Indian's church. Most of them sat outside and hunted lice on their children's heads and cracked them between their teeth. Visited the beef issue across the Missouri and saw the cattle slaughtered and divided among the Brule Indians. The Indian children would run around sucking the entrails. After the crowds had filed on their homesteads, buisness (sic) dropped off so Papa sent Charles, my younger brother, with a party to Hot Springs, S.D. to look up a location. He found the Hotel Parrot on the right side of the court house almost finished and rented it. Papa packed our furniture in two freight cars and shipped them to Hot Springs. Then he bought a covered wagon, team of horses and equipment, found another family, the Vet Schofields, to share the trip, and we started on a very interesting trip. Our party consisted of Father, Mother with four children and son's wife, The Schofields and their three children. Later their baby was the first child to go in Wind Cave. Mrs. Schofield is living now in Hot Springs as Mrs. Gregory. We crossed the Missouri on a ferry, then over the Wounded Knee battle grounds which had been fought three months before. We found a few Indian war relics and ran into several war parties with their war paint on. The drinking water was a problem. We would fill our barrels only to find it bitter and would have to dump it. The bad lands were just Indian trails and gumbo (mud). When it would rain it clung to the wagon wheels until they were a foot or more wide and would have to scrape it off. Luckily there was a store in the heart of the badlands as we used up all our food in just one week. We thought we had brought enough for the two weeks it would take us to get through these badlands. Brother George shot some game which was scarce. To me the bad lands looked like a large winding dry river that dropped 20 to 40 feet with a wall on each side gulches which made going through two states forming a ring around it with only a few passes to enter. It was a geologist paradise with petrfied (sic) snakes, fish, toads, birds, lizzards (sic), etc., beautiful crystals of all colors, and shapes. Rustlers used to drive stock there, keep the breeders and rebrand them as there was good grazing in parts and very hard to find the stock. There was Lame Johnny Creek which was named after a rustler who was caught and was hung there. Mother caught poison ivy which covered her body, and she nearly died before we could get to a doctor. Before we got to Buffalo Gap we were pounded twice within an hour by hail stones. The stones piled up to the horses knees, broke some the wagon staves and made black bruises on our hands where I had tried to up hold up the canvas.
Next day we arrived in Hot Springs and drove to the Hotel Parrot, found our furniture stored in the basement so we moved in there while we cleaned and furnished the rooms. Then we opened to the public, we had all we could take care of.
Just six weeks after the hailstorms of our trips, we were struck again. We hurried to get sick people and guests out as it broke all windows on the North side and blew down the chimney. It had battered the headboards which stood across the rooms. This storm flooded the Fall River which runs through Hot Springs which is warm water and Cold Brook which is cold and met just above the plunge bath. My brother, his wife and my sisters and many of our guests were in this plunge bath when the storm struck. It washed out bridges, broke the glass roof over the plunge bath and the tower. They scurried to shelter and had a rough time finding their clothes as lights had gone out. The B. & M. Railroad came in the west end of town and the Northwestern came up from Buffalo Gap and very often, each year they would be washed out and then repaired at a great expense.
Some time that first summer of 1891 Papa went out to Wind Cave. There were no stairs and they went down a rope and did a lot of climbing and crawling. He was very much interested in it and saw great possibilities for development. It was occupied by a Mr. McDonald (a squatter), who had been sent by Mr. Folsom, head of a mining company, to do the assessment work. He jumped the claim and took it as a homestead. This was unknown to my father at this time or he would not have bought into the cave. McDonald's family were starving, very hardup, and was very anxious for someone to invest money in the developing of the cave. He sold Papa one-half intrest (sic) and we sent out wagon loads of food several times.
The entrance to the cave was in a deep gulch. The original opening was a small oval hole about 8"x12" worn smooth by water spouting out a geyser, (9) a geyser 12 mi. south of H.S. (at Cascade live) There are others south of Hot Springs and geologists who came from all over the world said there were so many signs of it's being an extinct geyser. The story went that two Bingham brothers hunting rabbits camped for the night on top of the gulch and while one brother made camp and got supper, his brother went down into the gulch hunting and heard this wind coming out of a hole but covered with brush and debris washed there by floods. So he scraped away the brush and as he looked into the hole, the wind took his hat up into the air. He ran back to camp and told his brother that all hell had broken loose down in the gulch. In the morning they decided to take another look at this hole, and as they neared the spot, the first man threw his hat toward the hole and said "Watch it go up!" but the wind had changed and took the hat in. They never saw the hat again. We found out later that this wind was governed by atmospheric pressure and turned out to be a true arometer (sic). Clear days it blew out and the longer it was going to be clear, the stronger the wind. As a storm approached, the wind blew in and the closer the storm got the stronger the wind.
Later a log house was built over the hole which had been blasted near the original discovery. The front room being directly over it and near the trap door made in the floor and steps built down 155 feet to the first passage of cave. The wind blew so strong at times it took two of us to raise or lower this door according which way the wind blew and after it got to the first level, there was no strong wind but a regular system of circulation. Some routes of wind going in and some coming out. In fact, we used this draft to aid us in exploring. All of the rooms had two to a dozen openings and we could take our candle and put it in each opening and the one with the strongest draft indicated the largest country ahead. We carried a ball of twine which one end we tied to a rock as it was so easy to get lost.
The cave as we knew it was a number of crevices where we found the large rooms (running N.W. to S.E. - 50 to 150 ft. apart) connected by ovens, as we called them, crawling on our knees and sometimes pulling ourselves through on our stomachs (sic). Many times we would have to make a bridge of our bodies for the others to cross on. We kept ourselves well padded, where needed. Papa made a code signaling by tapping rocks. One tap – two taps – three taps and then two and a one tap – all meaning something like Come, I've found a new room; I am lost; Am in the dark, etc. I still have this code that Papa made me.
I loved to explore and seldom missed a trip. It was a great thrill to go into a room anywhere from 12' x 12' to 3 acres of floor surface that no one had ever set eyes on before. The ceiling and sided festooned with beautiful formations, sparkled like diamonds, large rocks strewn everyplace and fun to make out images of faces, animals, etc.. The floors were as clean as the walls and showed no dirty water had flowed through, but all the water had gone up. On one occasion we were in there 18 hours with temperature of about 45 degrees. When we became tired we rested, but we never caught cold. In fact, we had some asthamatic (sic) people stay with us to go down and breath that air.
One experience I remember, Papa and I were exploring and had, it seems, been in the cave about two hours or more. The first part of the trip is pretty hazy to me, but I distinctly remember coming to a small room about 12 feet around shaped like an Indian teepee (sic), the center having a strong draft. Papa had become tired and laid down to rest. (We often went to sleep when tired in cave and never caught cold) I looked down this hole and seeing some rocks that I thought I could reach with my feet, let myself down, my arms resting on the floor until I got my balance. I sat down and lit some magnesium ribbon which I used in large rooms while guiding. I was greatly thrilled being the first person in a room no one had ever been or seen before. It was truly beautiful. It was a very high room, about 100 feet by 50 feet wide. A portion of the ceiling about 30 feet by 15 feet had fallen just about the middle and in falling cracked open. It had their irredesent (sic) chocolate colored crystals found no other place in the cave. The rest of the room including the floor was covered with what we called Satin Spar which glistened like diamonds. The pretiest (sic) room I ever expect to find this side of heaven. I called Papa and after exploring the room further, we gathered some of the loose pieces of crystals and started our long hard crawl out. As far as I know this room was never named as it was hard to get there and was not shown.
There were three routes opened the first being The Garden of Eden in the winter of 1891 and 92. Many of the rooms were named by the guides and many more were named by the visitors themselves. The Prairie Dog and Mound was named by one of the guides who picked up a large rock which looked like the shape of a prairie dog and placed it on this mound; Snow Ball, many shapes of snowballs; Post Office, little boxes lined walls; M.E. Church, our first stop in guiding to rest and we generally sang a song. Odd Fellow's Hall, we had to cross a stone which looked like a turtle so this was named Turtle Pass. The Cross Roads, we branched off to the right to go the Garden of Eden. One room had large stones we sat on and called this room Stone Quarries. The G.A.R. Hall was named by a group of G.A.R. members who were guided through as were the Eastern Star, Odd Fellow's Hall, W.C.T.U. Hall, Union College rooms and many others.
The second route, the Fair Grounds started at the Crossroads. This route was opened in 1892-93 and so named after Papa guided Billie Bryan and Govenor (sic) Lee through the Cave. The following newspaper clipping tells the story.
John Stabler surely captivated Gov. Lee when he visited the cave last summer for besides being appointed as an Omaha exposition commissioner, John has also been named as a delegate to Stock Grower's Association at Denver on Jan. 25, 26 and 27. (1893) In speaking to Billie Bryan, Papa once said "I wish I might talk like you". Billie Bryan answered "I wish I might laugh like you".
Another newspaper clipping reads: A Transmississippi State Commission Governor Lee has appointed a new Omaha exposition commission for this state, as follows: Vice-Pres. A. McKinney, Lead; W.L. Gardner, Rapid City; Harris Franklin, Martin Chapman and Charles Davis, Deadwood; John Stabler, Hot Springs; Hance Murphy, Elk Point; C.A. Jewitt, Sioux Falls; O.H. Mann, Okobojo; Hugh Smith, Howard. The governor says that he will appoint additional members of the board at the earliest opportunity and will call the commission together and devise some means of raising money for making a state exhibit. The governor certainly made no mistake in naming John Stabler, of this place, for he can make an attractive exhibition alone if necessary – with his Wind Cave Specimens – and he no doubt will.
(Sent large collection to the Smithsonian Inst. Wash.) John Stabler did have an exhibition of specimens at the State-Fair and so named the room State Fair Route. Among the Fair Grounds route rooms was the Kimball Music Hall where you could tap the columns and play an octave. Johnstone's Campground – Where Johnstone, the mind reader, slept on his three day journey through the cave for the pin head. Then we heard of Mr. Johnstone, the mind reader, coming to Hot Springs, driving through the streets blind folded and found a name in a register at a certain hotel. The name belonged to the man whose mind he read. My father met him and asked him if he thought he could find something hidden in the cave. He said "Yes". So they made arrangements for the trial. A business man of Hot Springs, Mr. Germond and Alva McDonald, our chief guide, hid the head of a scarf pin in the cave. Meanwhile Mr. Johnstone stayed in his hotel room in Hot Springs and the next morning with his manager Mr. Germond and the Associated Press reporter with Mr. Johnstone blindfolded got in an opened spring wagon. Mr. Johnstone drove the 12 miles of very bad roads in 45 minutes. This drive usually took us 1½ to 2 hours to drive. One of the horses dropped dead, the other one was never any good afterwards.
Brother Charle's wife and I saw the horse drop. As he entered the hotel he took a razor from my brother's hand (my brother was shaving my father) and shaved a few stokes. We all looked scared to death. At the table he wanted anything he would name it and touch the man next to him and reach for it before anyone else could.
When he went down to the cave entrance, he sat on the step leading down in the cave and cried "I've lost my power" repeating it several times. Finally, still blindfolded, he jumped up and said "Come, I see the way". He flew down the stairs dragging the man who had the other end of string tied to his wrist. We knew where they were all of the time as we sent a guide a distance behind them in case they should get lost. This guide carried blankets to sleep on and food to places he knew they would pass. They were three days and nights and were getting exhausted, so Alva took them to the place where the pinhead was hidden. Mr. Johnstone, still blindfolded, took the pinhead up on the end of his knife blade and put it in Mr. Germond's hand. Our boys took a stretcher in, but when they got to the Post Office, they heard them coming so they stepped beside the wall and when Johnstone still in the lead, passed he didn't see them but Gerome did. Johnstone immediately said "I don't need that stretcher, watch the path".
Later when Papa got very sick, we sent for Mr. Johnstone and he hypnotized him with the thought that his pain was all gone. That really helped him more than doctors and medicine.
Another room was Alpine Pass was so winding sometimes called the Merry-go-Round.
The third route, the Pearly Gates, was opened in 1892 and was so named by my brother-in-law (Mamie's husband) Oscar Merwin. He said it reminded him of what the Pearly Gates would look like. The Blue Grotto of the Pearly Gates route had a 500 foot level, the lowest we had ever been. The Raymer room named by my Grandfather Raymer when he went through the cave at the age of 81. He died at age 89.
The Wind Cave Hotel, as it was called, my father first built on a hill. It was a two story house and after moving it down off the hill Papa added two wings. One for an office and one for kitchen and two bedrooms. The lower part of the original building we used as a dining room and we served dinner to all who wanted. My brother, George, ran this hotel for the first year until papa could sell out in Hot Springs. Besides buying the half-intrest (sic) in the claim, my two brothers, brother- in-law, and myself took up homesteads to cover the surface of the cave. Also McDonald's son took up a homestead claim, McDonald having the claim which covered the entrance. George had the next claim closest to the hotel. Each claim was 320 acres consisting of 160 timber and stone, 160 tillable.
I started exploring in 1891 and also guiding a few people in the cave that first season, 1892. We explored winters and my family spent 11 winters blasting and opening routes and making them possible for women to go through without overalls. My father, mother, brother Charles and family and myself lived on my homestead. I had the deed to the only spring of water a mile away and when the stage coaches would come to water horses, they would pick me up to guide the party. Papa visited all the hotels in Hot Springs, getting people to come and tour the cave. I continued to guide steady for 11 years until 1902. Have guided many groups of students from School of Mines at (I believe) Sturgis. Also, geologists from all over the world studying the different formations, where located, etc. we would take three parties a day. At one o'clock, 5 o'clock and 12 P.M. We couldn't get the Indians to go through except one party of 10 or 12 who were in missionary work. They chanted their Indian songs all the time they were in the cave. Grandma Rose's newspaper clippings.
WHERE THE WINDS PLAY
Former Stephenson County Man Finds a Mammoth Cave in the West 100 Miles Explored And the End is Not Yet – One of the World's Greatest Wonders. Rock City, Nov. 9 – Last Saturday a number of citizens of Rock City were taken by surprise when the 11:30 passenger train arrived. John Stabler, wife and daughter, who a number of years ago resided at this place, stepped off on the platform and shook hands with their many friends. Years ago, Mr. Stabler went west and settled in South Dakota. He was not expecting, at that time, that there was an underground fortune awaiting him. But an opening in mother earth was dicovered (sic), in the form of an immense cave, and as the wind came forth with such force Mr. Stabler and a partner who was with him, concluded that they would try and enter into the opening. The result was they discovered enough to see that there was a fortune near them. So in the year 1892 a stock company was organized and Mr. Stabler was made superintendent and overseer of the cave and the name Wind Cave was the title given it. One hundred miles had been explored and yet there are new openings likely to be found. Your reporter is unable to give the names of all that has been seen and discovered in this wonderful cavern. Thousands of visitors from all parts of the world come to take a view of the wonderful sights. Mr. Stabler, the superintendent, resided ten miles from the entrance to the cave at the nearest point of railway accommodations and he has led as high as 150 persons at one time through the cave. The price for admission is one dollar for each visitor. Although this may seem to be a great speculation yet there is a large expense in erecting stairways and bridges over some of the deep crevices. Also every ten to twenty-five visitors must be furnished with a guide to conduct them through. If any of the readers of this article would like to see a large display of the relics of this cave they can do so by calling on George Raymer, of Rock City, who is the father of Mrs. John Stabler. He has one large room at his residence in Rock City that is ornamented with numerous kinds of minerals and a long list of names is given to these relics. Everybody is welcome to call at Mr. Raymer's and see these specimens. Mr. Stabler expects to remain one month before he returns home.
Newspaper Clipping
1895
A TRIP TO SOUTH DAKOTA
On Sunday morning, May 19th, after a most bountiful breakfast at the palatial Midland Hotel, Kansas City, a number of the members of the Southwest Missouri Press Association, through the kindness of The Great Burlington Route, by their gentlemanly and courteous passenger agent, Col. Ives, departed for the famed Hot Springs, S.D. From Kansas City to St. Joseph, the party was honored with the company of Mr. Harris, city passenger agent, and his beautiful wife and little daughter. After a short stay at St. Joseph, the train pulled out for the great west. A short stop was made at Lincoln, the capital of Nebraska, and the next morning at 8:40 the wonderful Hot Springs was reached. The country west of the Platte River, in Nebraska, to the foot hills in South Dakota, has a dreary look and is in reality a desert. The only vegetation visible for many miles after leaving Crawford and before reaching Edgemont was an occasional bunch of buffalo grass and sage brush. The prairie cactus was also plentiful.
On reaching Hot Springs, truly the "Carlsbad of America," the party was escorted to the Evans Hotel, the leading hotel of the place. Hot Springs is 3500 feet above sea level, and nestles in a most charming valley in the Black Hills. The scenery surrounding the city is grand and inspiring. Back of the town a short distance stands what is named "Battle Mountain", named for a terrible fight which occured (sic) years ago between the Sioux and the Cheyenne Indians for the possession of the hot springs. The city has about 3,000 inhabitants, a social, energetic and thrifty people. The buildings are modern and will compare favorably with any city in the world for beauty of architecture and convenience. The Evans Hotel, the palace resort hotel of the West, is built of pink sandstone and will accommodate 300 guests. It is equipped with all modern conveniences and is just such a home as the person seeking health, repose and comfort desires. In Hot Springs are many hotels and several fine business blocks, two newspapers, the South Dakota Soldiers' home, and many residence mansions. The great plunge bath, the wonder of the west is 275 x 150 feet. This is unquestionably the finest plunge bath in the U.S. The water temperature as it bulges from the earth is (torn) and the most glorious was torn in by man.
The after (torn) day there was devoted to a drive over the city. To our friend, Capt. A. B. Connor we are greatly indebted for this pleasure. Our better-half and daughter were the guests in a like pleasure of Col. Fred T. Evans., Capt. Connor was stationed at Fort Wyman in this city and was instrumental in the construction of the same, and also Ft. Ditty near the School of Mines. He was, after that and for many years, with Gen. Crooke and Gen. Custer. He retired from the service, but a few weeks before Gen. Custer met his death at the hands of the Savages at Big Horn. He and Col. Evans are possessors of large tracts of land adjoining Hot Springs. To Dr. W.E. Adams, Kennett F. Harris, the Stanley Bros., Congressman Lucas and others who names have escaped our memories, we are under obligations for many courtesies.
The evening was devoted to a pretty dancing party given by Col. Evans which was interspersed with music, song and story. As only a few newspapermen ever indulge in tripping the light fantastic the party was not as largely represented as Col. Evans had desired. The Burlington's travel agent, Col. G. H. Baxter, a most genial gentleman, was on and did much to make all who happened near him enjoy themselves. The next morning after a good night's rest, in two large tally-ho coaches, a large number of party started for Wind Cave, a distance of twelve miles. The owners of this wonderful handiwork of nature, Messrs. Stabler & McDonald, had us under their wing, and although the air was crisp and bracing, the distance was quickly covered by these gentlemen.
The story of the discovery of Wind Cave, which is ninety-six miles long and the most unique and wonderful cave formation in the known world, was that a hunter in 1881 chased a deer to its opening. So wonderful was the rush of air from the small opening that he returned the next day with his brother to whom he had told the story. An investigation was begun and from an original opening of eight by twelve inches, it has been enlarged to admit three men walking abreast. Twenty-five thousand dollars have been expended on inside improvements making it the finest and easiest traveled underground wonder known. There are twenty-five hundred subterranean chambers, and the contract has been closed to light everyone with electricity. A good hotel adjoins and the meals are excellent.
Our party explored this wonderful cavern to the depth of 350 feet and a distance of three and a half miles. We are utterly unable to give a description of what can be seen here. The formations are different from those found in any other cave in the known world, while their brillancy (sic) and beauty are marvelously grand. This cave has been explored ninety-seven miles, and resembles and eight-story building. All who have visited this wonderful place pronounce it the first of the known wonders of the world.
On our return from Buffalo Gap, a distance of sixty miles. Prairie-dog villages are numerous along the route. After a most refreshing bath, and an excellent dinner, the remainder of the evening was spent with billiards, genuine western hospitality led by Congressman Lucas and a delegation from Edgemont headed by Mr. Russell Thorp, and a progessive (sic) euchre party. At cards the Missourians proved themselves on par with the men in the wild and wooly west who had taken lessons from the heathen Chinese, and won every prize but one – that a "booby".
The next morning at 8 o'clock. the sad farewell was said and accompained (sic) by a pleasant bevy of ladies and gentlemen, the train was taken for Deadwood and the vast gold field of the Black Hills.

We will speak of this trip and out stop-over at Edgemont, in our next issue.
Emma McDonald
Emma McDonald was the wife of Elmer McDonald, and sister-in-law to Alvin McDonald. She was the mother of Inez, Irene and Raemond McDonald.
A MEMOIR
By Emma McDonald

Wind Cave was discovered in 1881 by one Bingham, who, while hunting horses, was attracted by the noise of the out-rushing air and upon investigating, discovered the first small opening in the hillside. Some curiosity seekers enlarged this opening enough during the next two years to enable a person to crawl in a few feet.
Then J.D. McDonald, as agent for one Moss, with his two sons, Elmer and Alvah, arrived at the cave and located in the old blacksmith shop with a view of prospecting for gold. A small log house was erected over the opening and some little work done toward an entrance. No minerals were found. The McDonalds had to furnish their own supplies; Mr. Moss finally discharging J.D. McDonald as his agent.
J.D. McDonald then changed the entrance a little, built a larger log house over the new opening, and settled on the land as a "squatter." Work was going steadily forward in opening up the cave. New rooms were discovered and opened up by blasting through the intervening rock walls, etc.
Much exploring was done from the old blacksmith shop. Elmer and Alvah McDonald (at that time aged 20 and 18) would take balls of twine and start off on a side opening and go as far as they could, or as far as the twine lasted, then turn back, marking the route. There are many rooms off the main routes which have never been opened (for lack of time, in our case).
In 1892, the land surrounding the cave was surveyed by the government and opened up for homesteads. J.D. McDonald and Elmer McDonald (then 21) filed on homesteads covering the cave. Quite a few tourists were visiting the cave at this time.
J.D. McDonald, upon the anxious solicitations of John Stabler, the proprietor of the Parrot Hotel in Hot Springs, sold to said John Stabler for a few hundred dollars (mostly in trade – Irene's organ is one item), one-third interest in the income that would accrue from fees paid by the visitors, for guides, candles, use of overalls and caps, etc. Said John Stabler and his two sons, George and Charlie Stabler, to put in their time at the cave, as guides and to help with the work of further exploring of opening up the cave, or chambers in this case. He also gave the Stablers the privilege of running a hotel at the cave; they to furnish everything and receive he profit from said hotel.
The smooth tongue of John Stabler also induced J.D. McDonald to turn over all the books and collections to George Stabler. Between them, they did most of the business, incidentally transferring mot of the coins to their own pockets, besides carrying out enormous quantities of specimens which they sold or traded with as they chose. J.D. was owner and manager only. John Stabler was soliciting agent (met tourists at Hot Springs).
In 1892, a U.S. Post Office was established at Wind Cave. It was discontinued later.
August 1, 1893, Elmer McDonald was married. Later J.D. McDonald and Alvah McDonald went to the Worlds Fair in Chicago. Alvah returned from there unwell, and died about a month later on December 15, 1893 of typhoid fever, aged 20 years and 8 months.
Mrs. Susanna D. McDonald, mother of J.D. McDonald took up a homestead at the cave, the same year, on which she proved up on in due time.
In the summer of 1894, J.D. McDonald married one Maggie Drinkholm, said Maggie first having filed on a homestead about one-half mile from the cave.
Meanwhile the Stablers bought ranches and stock while the McDonalds had to charge their groceries during the winter months.
John Stabler's oily tongue and cheery smile still had J.D. McDonald hoodooed. He could not and would not see home things went. He thought the Stablers were infallible, but he had overlooked his Dutch wife, Maggie. She saw and she knew and after a time, things began to happen.
In the spring of 1896, J.D. McDonald made Stablers show the office books and finding (in their own accounts) that they had overdrawn their allowance enormously, he kept the books and put Elmer McDonald in charge of them, and the office, giving the Stablers the chance to pay back (what they showed that they had overdrawn) in small payments. They were angry and quit work.
J.D. McDonald, who had proved up on his homestead in the fall of 1895, was then living with his wife on her homestead in order for her to prove up also. Elmer McDonald and family were living on their homestead continuously.
Moss, mentioned before, and as J.D. McDonald's one time employer, was a mine speculator from New York, but at one time, living in Custer. While there, he employed a number of men, among them, one Peter Folsom of Custer. Moss left for the East, owing Folsom, in order to recuperate himself (so he thought) went around doing assessment work on various claims (mineral claims so-called), at one time owned by Moss. To this man, went the Stablers and together with him and McAdams (a bunch of cut throats living near the cave and one ranger (their tool) of Hot Springs). They broke into J.D. McDonald's house, covering the entrance to the cave, and when J.D. McDonald and his son Elmer tried to go into the house, they met then at the door with guns – saying they had minerals in the cave and they were there to protect their property, and no Mr. McDonald could enter. This was in the winter of 1896-97, more than a year after Mr. McDonald had proved up and got the receiver's receipt for his land.
To Tell all that followed would make a large volume. No justice prevailed. J.D. McDonald resorted to law, but the Stablers had the cave, the money, the lying tongues and the cut throats, and they were everywhere. They held it thus for three years, taking visitors through, and carrying out specimens and selling them and storing them.
Finally, Chauncey Wood, lawyer for the McDonalds, carried the case to the U.S. Land Office. The Government sent agents and mineral experts to investigate and who testified, that there are no minerals in the cave. The case was decided in favor of J.D. McDonald in the U.S. Land Office in Rapid City and the general land office in Washington D.C. But when it reached the Secretary of the Interior, he held it for a natural curiosity with the recommendation for it to be turned into a national park, which has since been done. (Secretary of the Interior's name was Herman).
When Elmer McDonald attempted to prove up on his homestead, the Stablers-McAdams contingency contested him. The Garden of Eden and other parts of the cave, being under his land that was also set aside by the government.
Incidentally, the Stablers proved up on their homesteads later, without any interference whatever from the McDonalds.
J.D. McDonald, after many hardships, left for Montana. Elmer McDonald, after working two years as a guide for the government and after 12 years of residence at the cave, left with his family for Hot Springs. Neither has received one penny in recompense for all the time, labor, and expense contributed by then in exploring and developing Wind Cave.
Inez (McDonald) Foley
Daughter of Elmer and Emma McDonald, Niece of Alvin McDonald
A MEMOIR
by Inez (McDonald) Foley
During the life time of any of the McDonalds, who lived at the cave in those early days, there was always a tender spot in their hearts for Wind Cave and a heartache for its loss and the loved ones, buried on that nearby hillside. I am the last one still living of the McDonalds who lived at Wind Cave, an I am glad to know that the McDonald memory is still kept live and that people know of the McDonald's gift (and a gift it was) of years of difficult and dangerous work in faithfully exploring and opening up the many miles of the Wonderful Wind Cave, that is now enjoyed by so many.
An illustration on pages 37 and 38 in the Wind Cave book shows an early picture of the Wind Cave buildings. There is a little white house on a hillside. In that house, I was born on September 1, 1896. On February 12, 1900, a little baby brother was born. The baby lived only a day and was buried beside Uncle Alvah, who had died in 1893.
The snow was deep the day Ira was laid to rest. The little funeral procession was on foot, as it made its way from the little white house, then across the high foot bridge that spanned the Beaver Creek ravine. My father Elmer McDonald carried me, and a young neighbor boy, Vere Brooks, carried my sister, Irene. It was a sad day of all of us to leave our baby there.
Both graves were mounded and bordered with Wind Cave specimens and lilacs were planted there.
A statue of Uncle Alvah had been at the head of his grave and a steel railing enclosed both grave sites. Now the statue and railing are gone and there is no marker on baby Ira's grave. Would it be possible to have the statue replaced and also the railing?
The story that was told to me was not a very prepossessing one about the disappearance of the statue. It was told to me that the wife of one Superintendent didn't like to took at that "spooky statue" every time she looked out of her window and she had clout enough to have it hauled to some unknown ravine and have it dumped there. How could such destruction be condoned and is it too late to rectify such a desecration?
Until late in 1901 or early 1902 that little white house was the home of my father and mother, Elmer and Emma McDonald and my sister Irene (two years older than I was), and it was my home too. I remember distinctly that we were there in September, 1901 – as I as standing near my mother, when my father told her the shocking news that President McKinley had been shot. On one wall of our little home were two large pictures of McKinley and Teddy Roosevelt, as they were special.
Some time after that, unfeeling minions of the Mighty Federal Government tore down our little white house. I remember the walls lying flat on the ground. I also remember that we moved into the deep underground cellar that had been jined to our house by a connecting pantry. That night Mother and Dad had their bed in a vegetable bin. Irene and I had our bed on a wide over-hanging shelf. We didn't stay there long as the high handed minions of the Government would have removed us forcibly if we had stayed.
So we moved away to a place six or seven miles distant, which was owed by the Bookers, who had been true blue friends through the years of feuding between the gang of renegades and the McDonalds for possession of Wind Cave. We were living on the Booker place when my brother Raemond was born in Pringle on October 2, 1902. We continued to live there until January, 1904, when we moved to Hot Springs so that Irene and I could enter school although our Mother had taught us to read and paint and do arithmetic and to spell.
That ended the Wind Cave episode in our lives except for the litigation that ended, not only the loss of Wind Cave, but also with no recompense for the years of faithful work in exploring and opening up the many rooms.
My Mother wrote an excellent account of the early days at Wind Cave. I think the original copy is at Wind Cave, but I have a copy of the article. She wrote how my grandfather Jesse D. McDonald was conned into letting the Stablers get a foothold at the cave. She also states that the United States Court decided in favor of Jesse D. McDonald, but that the Secretary of the Interior held it for a natural curiosity with recommendations for it to be turned into a National Park, which has since been done.
Although most of the early history is quite complete, much more could be written entitled "The Rest of the Wind Cave Story."
In the feud at Wind Cave, every foul means was used to oust the McDonalds. Jesse D. McDonald's log cabin was torched and records were destroyed. The most important item that was destroyed was a huge wall map of all the routes explored and the rooms opened up for tourists. Shady characters stole our horses and shot our cattle. I can remember my Mother weeping over a young cow that couldn't get up because her spinal cord had been severed by a rifle bullet. Some members of the gang were members of a low incestuous family living several miles away. My Mother, Emma McDonald, felt very certain that all the harassment was part of the Stabler scheme to gain control of the cave. It is a matter of record how Stablers robbed the accounts while the McDonalds didn't realize enough money for groceries.
My grandfather, Jesse D. McDonald, was a Quaker. He was honorable and believed others to be equally honest and honorable. He was not worldly wise and so was hardly qualified to cope with a gangster element – a fact which he learned too late to his sorrow and to the sorrow of his family. The Quakers were (and still are) honorable peaceful people who believe that right will always win – and by peaceful means.
I lived with the Wind Cave History for most of my young years. I can remember my Mother telling (with bitterness) how the McDonalds came stumbling out of the cave when the gun-toters released them after a night of captivity in the cave. Mother's Viking blood rose to a dangerous point; and she would willingly have taken up arms and engaged in battle; but the peaceful Quaker policy prevailed.
So as Mother wrote – The Stabler gang held the cave with guns for three years, shutting the McDonalds out. In the meantime, my grandfather took the case to court, which was decided in his favor – only to have the Federal Government take possession as a natural curiosity. So the McDonalds and the Stablers were both booted out.
The Wind Cave Story would have been written differently if the McDonald's in those early days had the spirit of Elmer's wife and children and grandson, Raemond Elmer Jesse McDonald, Jr. – or Rae, as we called him, but he was known to everyone else as "Mac". He was little but he was mighty. He was with the Air Borne in World War II and was dropped into dangerous locations to keep communications open between the battle front and the officer's headquarters. If Rae had lived in those early Wind Cave Days, he would have communicated with the outlaws in a language they understood and they would have fled so fast they couldn't be seen for heel dust.
Elmer's son, Raemond, Sr., would also have given a good account of himself if he had been a young man in those days. With his knowledge of law, obtained in college, he would have been an advocate in the cause of justice. His engineering knowledge would have been put to use to begin the improvement of facilities at Wind Cave – but Raemond and Rae, Jr. were not born when the die was cast.
My sister Irene was a fearless rider and would have ridden herd on our cattle and horses and thwarted the activities of thieves and vandals. Irene had the courage and marksmanship to have winged the culprits and thereby changed their way of life and perhaps saved their souls, which would have been a source of gratification to her, as well as a star in her crown as she loved the Lord.
As for myself, I would have been side by side with my sister in every endeavor as we had ridden horses as long as I can remember. Irene was always the leader, but I wasn't far behind, and my marksmanship is commendable – as I have blasted the head off of a rattlesnake from my position on a saddle horse.
Our Mother's Viking Blood had invigorated the peaceful Quaker strain so the next generation and the next realized that battle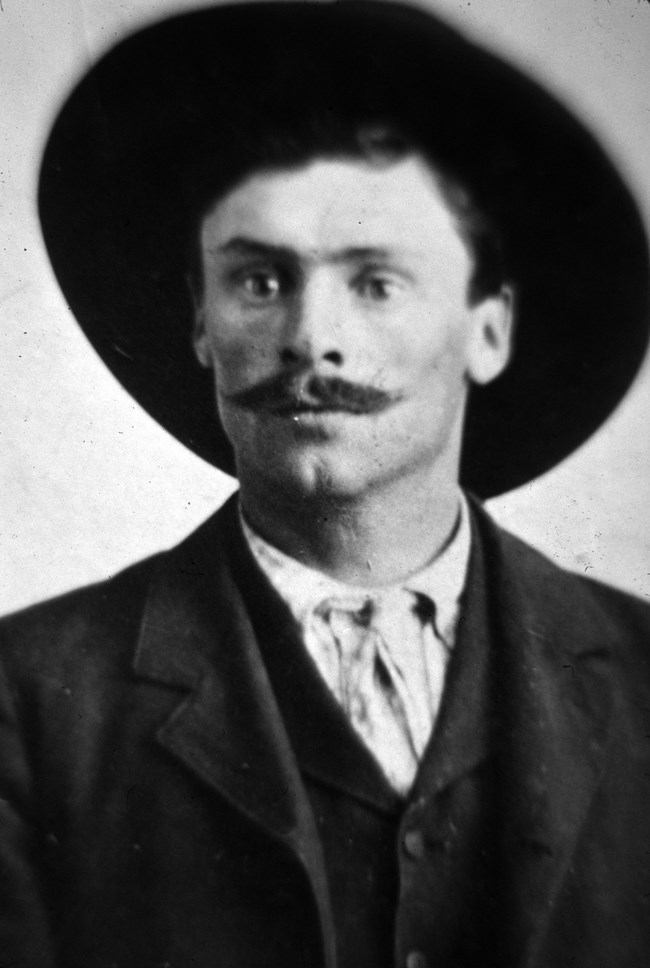 Tommy McDonald
Evan Thomas McDonald, the son of Jessie and Lucy McDonald was born in Calliope, Iowa on January 8, 1880. The family moved to Iowa Falls about 1885. There Tommy went to a country school taught by a Miss Georgie Griffith. The summer he was nine years old he worked for a farmer in Iowa driving a team of mules.

Jessie McDonald and his two older sons, Elmer and Alvin came to South Dakota and filed on land near Hot Springs. After he filed on this land a hole in the ground as discovered that had wind blowing out of the earth. The McDonalds saw the possibilities of the cave becoming a tourist attraction. They named it Wind Cave, developed it, and began taking people through it on tours in the late 1880s.

In 1892 Tommy with the rest of the family came to Hot Springs to make their home. He didn't like the cave and wouldn't help his father and brothers in it. In the fall of 1893 when 13 years old, he left home. He spent that winter with the Clifford family near Interior. His greatest desire was to own a saddle horse. When he was 15, he carried mail by horse between Interior and Scenic. He never outgrew his liking for horses. His most unusual horse was a brown curly horse. It was curly all over and because it was both a good saddle and cutting horse, Tom prized him over all the other horses he owned. He didn't return home until he was 18 years old.
Last updated: September 6, 2023