Cave Exploration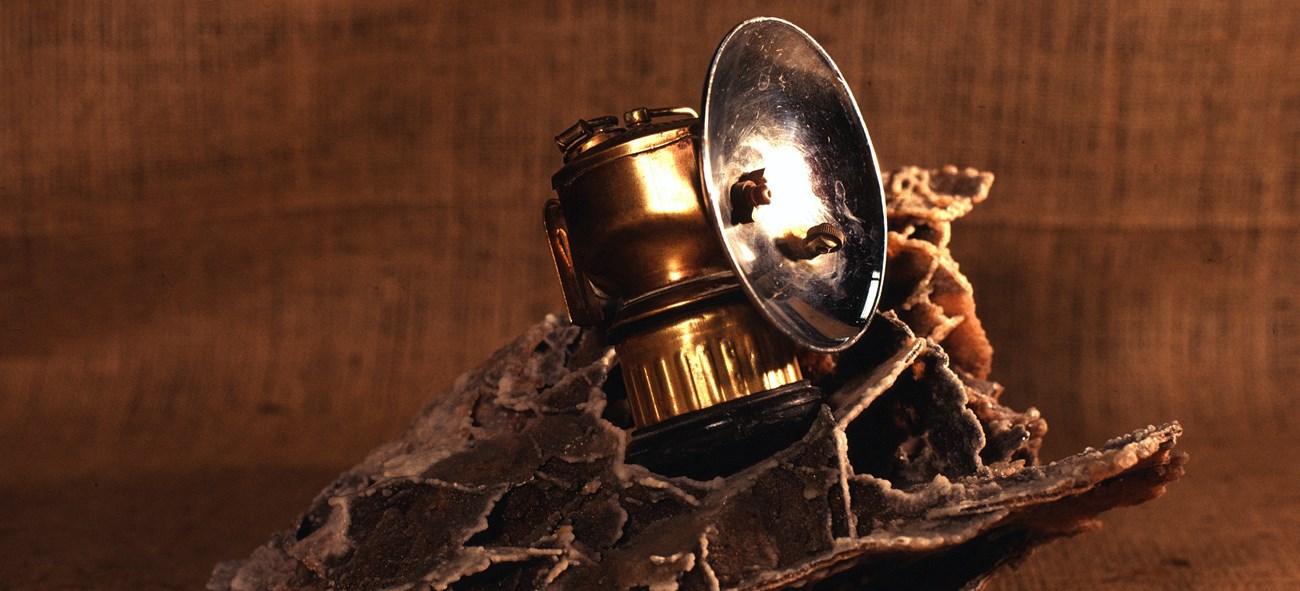 Many individuals and groups have been involved in the exploration of Wind Cave, one of the world's longest caves. The cave is still being explored with no end in sight.
First Encounters
Indigenous tribes have lived in the Black Hills since time immemorial. These early inhabitants were the first to find what is known today as Wind Cave.
Talking History
Lakota oral tradition refers to a "hole that breathes cool air" near Pte Tatiopa, the "Doorway of the Buffaloes" or Buffalo Gap. It is believed that the natural entrance to Wind Cave is that breathing hole. The natural entrance is said to be an entrance to the spirit world. It's also said that the first people and bison emerged from the spirit world deep within the cave through the natural entrance.
It'll Blow The Hat Right Off Your Head
In 1881, while riding their horses up a draw, Tom and Jesse Bingham heard the sound of blowing wind on a calm day. Following the sound, they came upon a hole in the ground. When Jesse looked into the hole the wind blew his hat right off. The story of a hole that will blow the hat off quickly spread and other people ventured out to the area to see this blowing hole.
Candles and String
The first written record of a trip into Wind Cave was by Frank Herbert, a Black Hills pioneer who visited the cave in 1881. He was given the cave's location by Charlie Crary, believed to be the first person to actually descend into the cave. In this early party were Hebert, Jesse Girelle, his wife, the two Cole girls, and Mayme Sprague.
"I started down…"
I was supposed to lead, Herbert said. We had to jump down a hole that I could just about squeeze through, six or seven feet. I started down with my lantern. Had to crawl on hands and knees facing a terrible wind for about fifty feet, and then the main hole seemed to be going down at right angles and very steep, but it gave a good foothold.

"…got scared and went back."
After exploring for a time, Herbert and Sprague began the long climb back toward the entrance: We started on back, found the string and followed it. Those on top helped to pull us up. They went down as far as where the main part turned down, but got scared and went back.
1959 NSS Wind Cave Expedition
Cave Exploring Gets Organized
The National Speleological Society conducted an official expedition to Wind Cave in 1959. It was led by Robert F. Brown. Although the trip was intended to be of a preliminary nature and lasted only 10 days, more surveying and scientific research was conducted during these 10 days then all other previous times. Approximately 3 miles of cave were mapped. A good portion of this was the resurvey of tour routes, but it also included a large section of the northwest part of the cave including the surveys of places such as: the Attic, Plummer's Pit, the Bishop Fowler's Loop, and Brown Canyon. During the expedition and with additional months of laboratory work, enough information was collected and analyzed to permit a complete study of the cave's mineralogy, a reconnaissance of the cave's fauna, and a preliminary account of the cave's geology.
Scientist in Training
Expedition member Stewart Peck won the High School National Science Fair for his work on the biology of Wind Cave done during the 1959 NSS Expedition. Peck with his science project at the National Science Fair in 1959. Dr. Peck today is a professor of biology at Carleton University in Ottawa, Canada.
Jewel Cavers Breakaway
When exploration trips into Jewel Cave were restricted, Herb and Jan Conn, along with Dave Schnute, began to direct their efforts to Wind Cave. In 1963 they made a breakaway from the known portion of the cave. This was the first breakaway in Wind Cave since the days of Alvin McDonald. Herb and Jan kept a diary of their explorations of Wind Cave.
An Underground Lake
A crawlway near Rome led them westward into Omnibus Hall. Further explorations led them past the beautiful Frostline, beyond the Hornet's Nest, down the Boxwork Chimney and into the complex Calcite Jungle. This eventually led them to Calcite Lake, the first lake discovered in the cave.
Big Cave Discovered
Schnute and the Conns also headed west through the Roadblock, down Lonesome Road, to the Chinese Mushroom, and finding the truly massive Club Room. From 1963 until their return to intensive survey in Jewel Cave in 1965, they surveyed 15,740 feet of virgin cave and set the stage for even larger discoveries to be made several years later.
Colorado Meets South Dakota
Members of the Colorado Grotto were very active during the early 1960's at Wind Cave. They were involved in extensive surveys around the Natural Entrance, the elevators, and Pearly Gates areas. New discoveries were made including the Xerox Room, the Popcorn Room, Independence Hall, Red Crystal Canyon, and Mammoth Canyon. Today this section of Wind Cave is referred to as the Colorado Grotto Zone of the cave.
Lost Caver!
The Colorado Grotto was instrumental in finding the lost NOLS (National Outdoor Leadership School) student in Wind Cave in 1989. This incident renewed the Grotto's interest in exploring and mapping Wind Cave and the park's interest in getting more cavers familiar with the cave. Today, members of the Colorado Grotto comprise some of the most active explorers at Wind Cave.
50 Miles and Beyond
John Scheltens in cowboy hat (Windy City and Paha Sapa Grottos), Alan Williams top center and Ed LaRock white helmet (both Colorado Grotto), and Jim Nepstad orange helmet (NPS) comprised the team that mapped Wind Cave's 50th Mile on August 15, 1987.
Into the Unknown on Weekends
In 1990, the Wind Cave Weekend Survey Project was started by the Colorado Grotto. Between 1990 and 1998, 18 miles were added to the surveyed length of Wind Cave. Since 1999, the Wind Cave Weekend Project has continued and, coupled with increased survey work by off duty park staff, an average of 7 miles a year are being surveyed.
Windy City Meets Wind Cave
While returning from the NSS Convention in Lovell, Wyoming in 1969, three members of the Windy City Grotto, John and Jim Scheltens, and Ralph Earlandson stopped by Wind Cave for a visit. At the park they accidentally bumped into Bob Ernst, fellow NSS member and seasonal ranger, who informed them of the need for mapping and exploration in the cave. Following a year of preparation and coordination with the National Park Service, the Windy City Grotto made its first trip to Wind Cave in August, 1970 with 17 participating members. The Windy City Grotto basically picked up where the Conns and Schnute left off. During its first trip, which lasted 3 weeks, they surveyed about 2 miles of new passage which included the discovery of Windy City Lake and the largest helictite bush yet discovered some six feet in height.
Breakaway!
In 1971 another major breakaway was made when a survey team lead by Chris Hill found their way into the massive Master Room. Miles of huge virgin cave soon opened from here including the monstrous Half Mile Hall. Between 1970 and 1973, the Windy City Grotto surveyed or resurveyed some 107,000 (over 20 miles, in Wind Cave, more than doubling the known size of the cave at that time.
Paha Sapa Grotto
Most Black Hills cavers are members with the Paha Sapa Grotto of the National Speleological Society which is associated with the South Dakota School of Mines and Technology in Rapid City.
Reunion Under the Black Hills
In 1977, former Windy City Grotto member, John Scheltens moved to Hot Springs to become its city engineer. A year later Dave Springhetti, another Windy City Grotto member also moved into the area. Together with members of the Paha Sapa Grotto, Scheltens and Springhetti renewed their explorations in Wind Cave. Starting where they had left off, Scheltens and Springhetti teamed with members of the Paha Sapa Grotto, occasional cavers from the Colorado Grotto, and with other cavers they explored and mapped passages between the historic section of the cave out to Half Mile Hall and beyond.
The Silent Expressway
On October 8, 1980 Scheltens along with Paha Sapa Grotto member and Jewel Cave ranger Mike Wiles, former Wind Cave ranger Tom Miller, and Peter Shiflett pushed beyond any passages yet discovered when they first entered the Silent Expressway. Although strong winds flowed along Silent Expressway, this discovery marked the deepest penetration in Wind Cave until 1991.
Caving Rangers
Although many park rangers probably did some "exploring" in Wind Cave, it was not until 1959 when seasonal ranger Alan Howard began to actually document discoveries by surveying in Wind Cave. This tradition has continued into the present with park staff accompanying cavers from various grottos on exploration trips and leading such trips themselves.
Cave Management
Recognizing A Need
In 1982 Kay Rohde began working at Wind Cave as the park's assistant chief of interpretation. At the time, Wind Cave National Park had no management plan for its cave resources. Rohde identified the need for cave management based upon scientific data and began assembling a team of rangers to accomplish this task.
First Cave Management Ranger
In 1984 the first cave management position was filled by seasonal ranger Warren Netherton. Netherton began organizing cave maps, inventory and survey data and documenting algae removal, cave restoration that needed to be done and tracking cave use.
"Why don't you write a plan"
Caver Jim Pisarowicz also started work at Wind Cave in 1984. When Pisarowicz said to Rohde that he was surprised that the first cave to be a national park in the world did not have a management plan, Rohde said to him, "why don't you write a plan." He did and it became the first draft of the first cave management plan at Wind Cave National Park.
"I want to be a professional cave explorer"
When Jim Nepstad first visited Wind Cave as a boy of 10 he was so excited by what he saw that he said that he wanted to become a professional cave explorer. Nepstad began working as an interpreter at the park in 1983 and over the winter of 1985 he sorted out all the survey data for the cave and created the first computerized cave map of Wind Cave.
Geographic Information System
This project eventually grew into the park's first Geographic Information System (GIS) and Nepstad became the first fulltime cave management specialist at Wind Cave National Park.
Last updated: May 21, 2023