Reptiles & Amphibians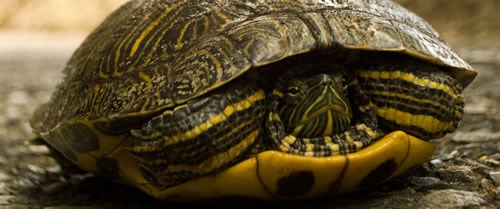 Three species of amphibians and five species of reptiles were found during the 2002-2003 vertebrate census of Whitman Mission.
Amphibians
Great Basin
Spadefoot Toad
Pacific Treefrog
Bullfrog (introduced)

Reptiles
Western Painted Turtle
Slider (an introduced turtle)
Racer (a snake)
Gopher Snake
Western Terrestrial Garter Snake.
In warmer weather, Western Painted Turtles and Sliders can often be seen sunning themselves on boards floating in the Millpond. (Learn how to tell them apart.) Bullfrogs are known to occur around the Millpond, Mill Creek, and along the irrigation channel. Common Garter Snakes and Gopher Snakes (aka Bull Snakes) have been seen throughout the site.
---
Sources
2002-2003 Vertebrate Inventory: Whitman Mission National Historic Site. University of Idaho and National Park Service Columbia Cascades Support Office.
Whitman Mission National Historic Site: General Management Plan, September 2000. U.S. Department of the Interior, National Park Service.
Last updated: March 1, 2015