Telling Turtles Apart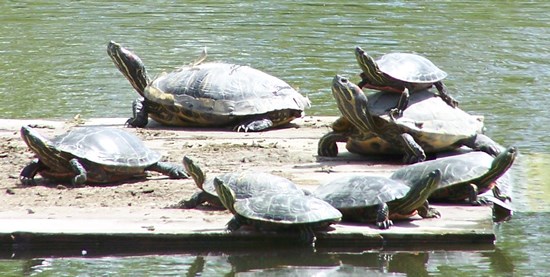 With warmer temperatures, come the turtles. A favorite of park visitors, these reptiles bring joy to the young and young-at-heart. The best place to see turtles is on the boards that float in the park's pond, though occasionally one may be seen roaming cross-country.
Eventually, the question arises: "What kind of turtles are these?"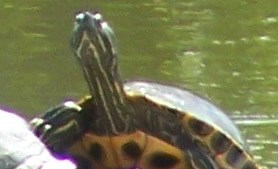 Two types of turtles live in the pond, the Western Painted Turtle and the Slider. Unfortunately for the novice turtle identifier, these two species look an awful lot alike. Each has a dark greenish upper shell and bright yellow striped legs and head. The easiest way to tell them apart is to look at the bottom shell (the plastron). The bottom shell of the Western Painted Turtle is bright red. The Slider has no red on the plastron at all. Instead, the bottom shell of the Slider is yellow with large round black splotches. It is not necessary to pick up the turtles to use these clues. Even from a distance one can often see the distinctive black splotches and yellow underside of the Slider or catch a glimpse of bright red along the underside of the Western Painted Turtle.
Another distinguishing characteristic that many Sliders have is a relatively large red spot (sometimes yellow) right behind the eye. Often both kinds can be seen on the floating boards, providing an opportunity for direct comparison. This is especially useful for observing and learning more subtle differences. For example, the upper shell of the Western Painted Turtle looks flatter and smoother than a Slider's.

Last updated: March 1, 2015