Field Trips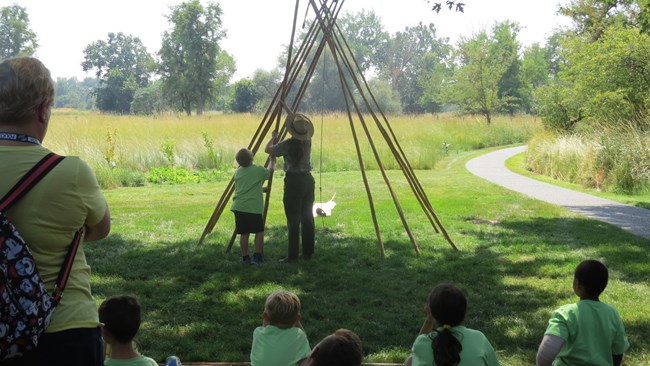 Planning Your Field Trip
We ask that all school groups call to make a reservation when planning a visit. We want every school to enjoy the park to the fullest, and that can be difficult if there are too many students here at once. So even if you do not expect to schedule a ranger guided program, making a reservation ensures that you are able to get the most out of your visit. Reservations are filled on a first-come, first-serve basis by calling 509-522-6360 or sending an email.

Typically, May is the busiest month of the year for field trips. With around 5,000 students visiting each year, we unfortunately cannot fit everyone into one month. If May is the only time that you can visit, please be sure to contact us as early as possible to reserve your spot.
Information to Have Ready to Make a Reservation
When you contact us to reserve a field trip, we will ask for the following information:
School Name
Grade
Number of students, classes, and chaperones
Point of contact for the reservation including contact information for the day of the field trip
Preferred date and time, plus additional dates that would work
How long you plan to stay
If you want a ranger program and on what topic
If you plan to watch the film while you are on-site
If you will bringing your own activities to complete on-site
Any special accomodations
Accessibility
The visitor center, museum, and restrooms are wheelchair accessible. There are curb cutouts in the entry drive in front of the visitor center. The museum and theater are located on one floor. The park film is open captioned and large print resources are available. A wheel chair is also available.

For more information about accessibility at Whitman Mission NHS, you can contact a ranger or visit our Accessibility web page.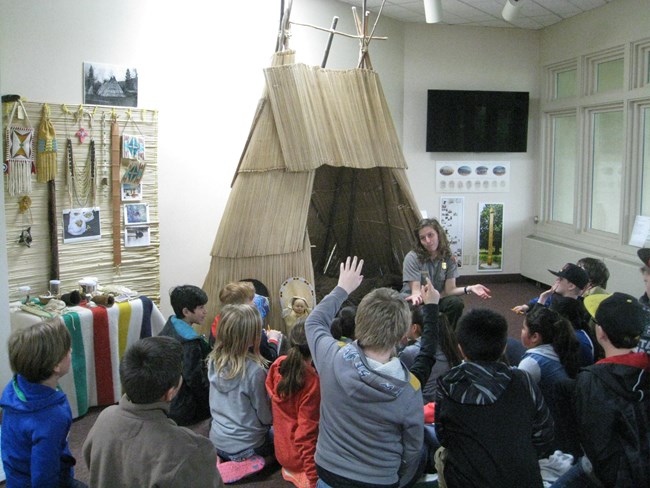 Tips for a Successful Field Trip
We suggest that you plan for a 2 hour visit. If you have multiple classes or a large group visiting, be prepared to break up into 2-4 groups to rotate through different stations.

While we hope everyone will be able to arrive on time, we understand that many schools visit us from far away and can end up running late. Please let us know as soon as you can if that is the case so that we can make any adjustments to accomodate your group.
Protecting the National Historic Site
In order to have a fun and exciting experience, a firm framework of rules should be discussed in advance. The discussion should include the following points:
Respect historic structures, animals, and plants at Whitman Mission.
Harassing animals, picking flowers and grasses, and removing pinecones, feathers, and other natural objects are illegal.
Respect other visitors at Whitman Mission by refraining from disruptive behavior.
Respect each other, the ranger, chaperones, and teachers.
Stay on the trail unless otherwise instructed.
Additional Reminders
Teachers are responsible for following school regulations regarding parental permission slips, travel authorization/insurance, etc. An accident can ruin a field trip and jeopardize future ones. Safety is of utmost importance. Students must always be with adults.
Remind students to check the weather and bring appropriate, comfortable clothing, including comfortable walking shoes.
For safety and courtesy, rangers prefer to call students by name. Please wear name tags during your visit. Masking tape with names written in big letters works well.
Everyone needs to bring a lunch and a drink if you plan to eat on-site. No food or drink is available at the park. Water fountains may be available depending on the time of year. Students are expected to clean up the lunch area.
Chaperone Guidelines to Share with Parents
We need the participation and cooperation of each chaperone to make the trip a success. Remind chaperones that they are an important partner in our program. We will be asking that each chaperone:
Avoid bringing siblings who are not part of the class. Your full attention is needed to help monitor the students assigned to you that day.
Assist with safety.
Be an active participant.
Provide guidance to students for lunch and clean-up.
Help set boundaries and provide leadership.
Guide the learning process and help focus students on the activity or speaker.
Most importantly… go with the flow, adapt, and have fun! The students pick up on how you react… if you are having fun, they will too!
Last updated: March 5, 2021