News Release
Fifty-six schools will create ornaments to accompany the National Christmas Tree in Washington, D.C.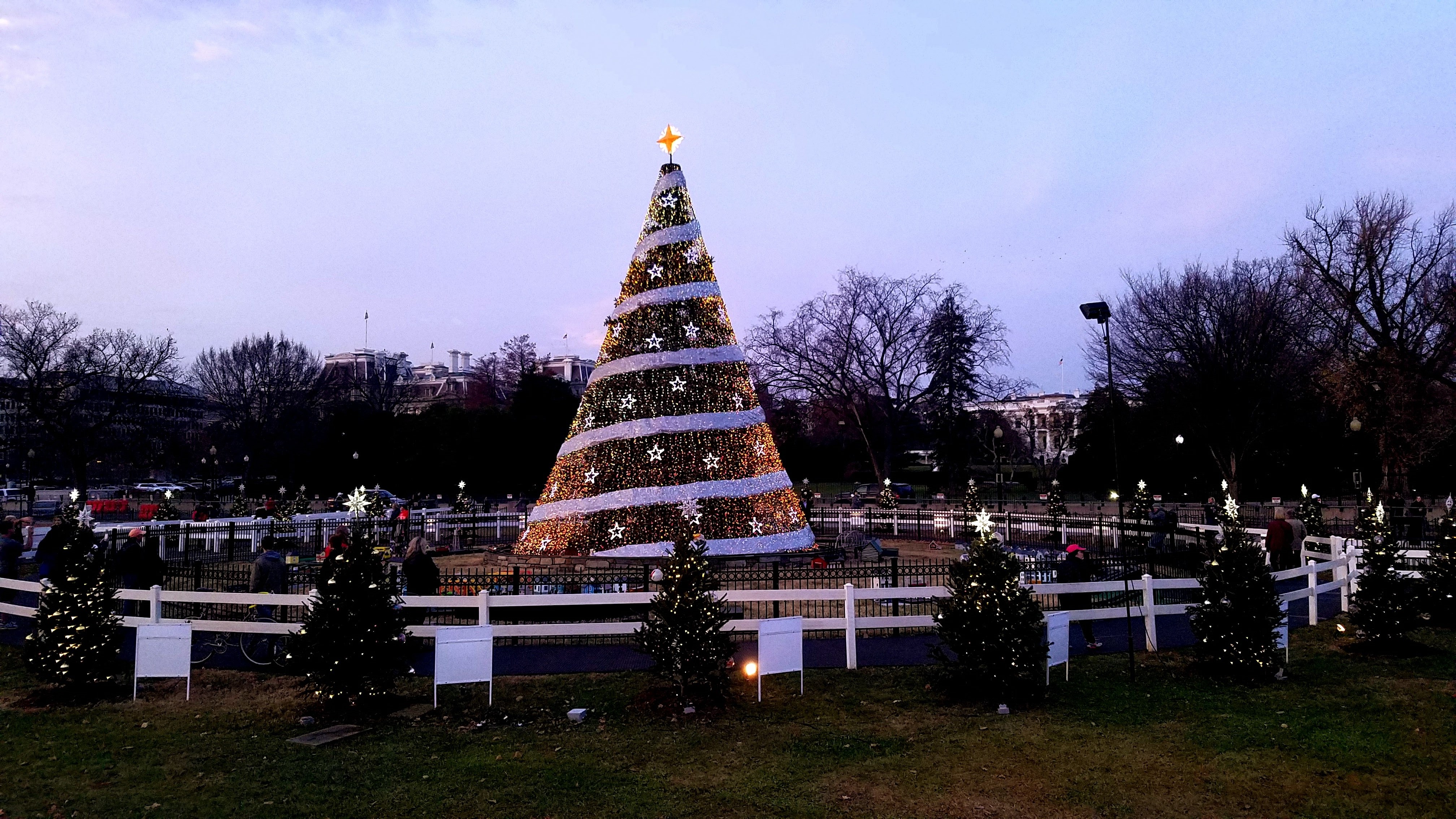 News Release Date:
October 25, 2018
Contact: Katelyn Liming, 202-619-7156
Fifty-six schools across the country are creating one-of-a-kind ornaments for the 2018
National Christmas Tree
experience on the Ellipse in
President's Park
in Washington, D.C. These handcrafted ornaments will adorn 56 smaller trees that surround the National Christmas Tree. The 56 trees represent each U.S. state, territory and the District of Columbia as part of the America Celebrates display.
The America Celebrates display is one of the highlights of the National Christmas Tree experience, which will begin on November 28 with the 96th Annual National Christmas Tree Lighting Ceremony. Each school will create ornaments that celebrate its state, district or territory.
Learn about last year's artists and ornaments
.
Through a partnership with the National Park Service, the U.S. Department of Education worked with state art and education agencies to identify middle and high schools whose students would create the ornaments. The project is funded by the
National Park Foundation
.
"It's an excitement and privilege; patriotism at its best," Gavin Kumar, a ninth-grade student at Leonardtown High School in Leonardtown, Maryland said. "I'm excited that my artwork is going to be on display for thousands of people to see."
"We are very honored for our class to have such a great opportunity to represent the state of Michigan at the National Christmas Tree display," Aniyah Moore,  a 12th-grade student at Carman-Ainsworth High School in Flint, Michigan said. "It will be fun to create the ornaments, and to show our creativity for our state."
"I'm honored our small school has the opportunity to represent the beautiful Big Sky State, through art, at a national level," Elizabeth Donahue, a ninth-grade student at Roundup Junior/Senior High School in Roundup, Montana said.
Fifty-six schools to create ornaments for 2018 National Christmas Tree display in President's Park:
Alabama
Hewitt-Trussville Middle School
Alaska
Tanana Middle School
American Samoa
Fagaitua High School
Arizona
Isaac Middle School
Arkansas
Ardis Ann Middle School
California
Gabrielino High School
Colorado
Chappelow K-8 Arts Magnet School
Connecticut
Carmen Arace Intermediate School
Delaware
Dover Air Force Base Middle School
District of Columbia
SEED Public Charter School
Florida
Lecanto High School
Georgia
Riverwood High School
Guam
Agueda I. Johnston Middle School
Hawaii
Robert Louis Stevenson Middle School
Idaho
Central Academy
Illinois
Dwight Township High School
Indiana
Our Lady of Grace Catholic School
Iowa
Starmont Middle School
Kansas
Colby Middle School
Kentucky
Kentucky School for the Deaf and Kentucky School for the Blind
Louisiana
Wossman High School
Maine
Lawrence High School
Maryland
Leonardtown High School
Massachusetts
St Charles School
Michigan
Carman-Ainsworth High School
Minnesota
MACCRAY High School
Mississippi
Forest Hill High School
Missouri
Hazelwood West Middle School
Montana
Roundup Jr.-Sr. High School
Nebraska
St. Mary's School Bellevue
Nevada
Gerlach K-12
New Hampshire
Contoocook Valley Regional High School
New Jersey
Ocean City High School
New Mexico
El Dorado Community School
New York
Dryden Senior High School
North Carolina
Needham B. Broughton High School
North Dakota
Beulah High School
Northern Mariana Islands
Saipan Southern High School
Ohio
Milford Junior High School
Oklahoma
Middle School of Piedmont
Oregon
Howard St. Charter School
Pennsylvania
Middletown Area Middle School
Puerto Rico
Escuela Especializada de Bellas Artes Ernesto Ramos Antonini
Rhode Island
Paul W. Crowley East Bay Met School
South Carolina
John W. Moore Intermediate School
South Dakota
Roosevelt High School
Tennessee
Fairview Middle School
Texas
Knippa School, Knippa ISD
Utah
Evergreen Junior High School
Vermont
Randolph Elementary and Middle School
US Virgin Islands
Ivanna Eudora Kean High School  
Virginia
Governor's School for the Arts
Washington
Graham-Kapowsin High School
West Virginia
Washington High School
Wisconsin
Wyoming
DeLong Middle School
Lingle-Fort Laramie High School
The National Christmas Tree Lighting has strong ties to education. In 1923, a letter arrived at the White House from the District of Columbia Public Schools proposing that a decorated Christmas tree be placed on the South Lawn of the White House. On Christmas Eve that year, President Calvin Coolidge walked from the Oval Office to the Ellipse and pushed a button that lit the first National Christmas Tree. It was a 48-foot fir donated by Middlebury College in Vermont.
Today's National Christmas Tree is a living Colorado blue spruce from Virginia, which can be viewed year-round in President's Park. This year's National Christmas Tree Lighting Ceremony will kick off the holiday season with live musical performances, special guests and the official lighting of the National Christmas Tree. The festivities continue with a daily lighting of the National Christmas Tree, free evening musical performances and a chance to see the 56 state, district and territory trees and their ornaments up close from December 1, 2018 through January 1, 2019.
For more event information and updates, please visit
www.thenationaltree.org
and follow the National Christmas Tree on Twitter at
@TheNationalTree
. Join the conversation online using the hashtag #NCTL2018.
Last updated: November 9, 2018