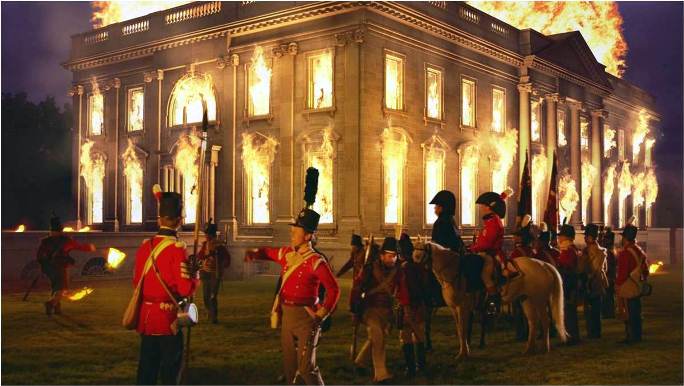 News Release Date:
September 1, 2014
WASHINGTON--The National Park Service will commemorate the 200th anniversary of the British capture of Washington D.C. and the burning of the White House in 1814. On August 23 and 24, 2014 President's Park will host a series of interactive programs on the Ellipse, located near 15th and E Streets NW. All events are free. Ranger-led programs will start at the temporary White House Visitor Center.
Valor of a Few Saves Treasures of a Nation
Saturday August 23 and Sunday August 24 10:00 am and 12 noon
This program highlights Dolley Madison's time as First Lady, as hostess at the President's House and her experience curing the dramatic times of August 24, 11814 when British troops entered the Capital and burned the White House.
Broad Stripes and Bright Stars!
Sunday August 24 11:00 am and 3:00 pm
Participants will get to hold a full-sized 30 x 42 ft replica of the U.S. flag that inspired Francis Scott Key to write The Star Spangled Banner. Visitors will gain insight on how the events of August and September 1814 shaped how many Americans currently see the flag as the symbol of the spirit of the American people, and how that spirit of resilience led to the rebuilding of the Capitol and White House after the War of 1812.
The Key Story
Sunday August 24 1:30 pm
"Meet" Francis Scott Key, author of The Star Spangled Banner, as he is portrayed by park ranger Vincent Vaise, learn about Key's life as a father and lawyer in Georgetown, Key's role in defending Washington, the series of events that led to his writing the poem that later becomes the National Anthem, and his active role in Washington politics after the War of 1812.