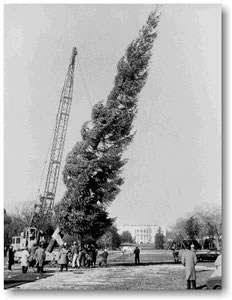 The Ellipse: 1954-1960

In 1954 the event returned to the Ellipse. Cut trees, donated from various states were erected from 1954 to 1972. A "Pathway of Peace" was constructed out to the tree and lined with smaller trees - eventually representing one for each state, the District of Columbia, and each of the United States' territories.
Donations came in other forms. In 1958 the Territory Governor of Alaska sent 14 reindeer and a caribou to the Pageant as a gift to the nation. Eight of the reindeer were pregnant. At the end of the event the animals took up residence in the National Zoo. That following January 3, 1959, Alaska formally became the 49th state.
Because of the multipurpose uses of the Ellipse, a cut tree - rather than live tree - was erected in the center of the Ellipse. Visitors would be able to stroll down the "Pageant of Peace" walkway which passed by the lighted tree and led to a variety of surrounding exhibits (which included a stage for nightly entertainment, a life-size nativity scene complete with live animals, a special children's corner; and exhibition booths). Just before the first Pageant lighting, scheduled for 5 p.m. on December 17, two sheep made their escape from the Nativity into the nearby rush-hour traffic. Police on motorcycles with sidecars rounded up the stray livestock returning them safely before the Presidential party arrived which included President and Mrs. Eisenhower, Vice President Richard Nixon, his wife Pat and their daughters Tricia and Julie.
The event was broadcast by radio to an audience which included the armed forces stationed throughout the world. Over the next three weeks, 27 embassies participated in the Christmas Pageant of Peace program with songs, dances, and tableaux interpreting Christmas traditions and customs of their native lands. One of the most popular events was the next-day arrival of "Santa Claus," Donald Fyninlson of North Pole, New York, who drove down the Pathway of Peace on his reindeer-drawn sled.