Things To Do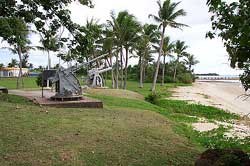 Don't Miss Attractions
Asan Bay Overlook with its panoramic view and its Memorial Wall which contains 17,771 names of Chamorro and American casualties who suffered or died during the war on Guam.
The 20 cm short-barrel Japanese Coastal Defense Gun and the Japanese Twin Mount 25mm Anti Aircraft Gun that are located at Ga'an Point.
Liberator's Memorial commemorates the 50th anniversary of the Liberation of Guam. This monument honors the armed forces that participated in the 1944 landing on Guam.
Over 3,500 marine species and 200 species of coral that are located within the scuba and snorkeling areas of park waters including the endangered hawksbill sea turtle and the threatened green sea turtle.
Over 100 historical sites, caves, bunkers, pill boxes, emplacements, latrine foundations, plaques, and structures that can be seen throughout War in the Pacific's landscape.

Facilities
T. Stell Newman Visitor Center
Phone: 671-333-4050

The T. Stell Newman Visitor Center has reopened and is now located at the former Army Reserve Center, near the Naval Station Guam front gate. Just look out for the awesome Japanese Type-C Midget submarine!

Special Programs: The T. Stell Newman Visitor Center provides an opportunity to enhance the visitor's knowledge of the Pacific Theater of World War II and the war years on Guam. Liberating Guam: The U.S. Comes Back, depicts the pre-war lifestyles of the indigenous people of Guam, the Chamorros; the invasion and occupation of Guam by Japan (1941-1944); and the retaking of the island by the United States Armed Forces (July 21, 1944). This presentation features U.S. Veteran Jack Eddy (deceased), Insular Force Guardsmen Pete Cruz, Chamorro Survivor Carmen Kasperbaur, and Veteran, Third Marine Division, Pete Siquenza. This National Park Service (NPS) production was entered in the Houston International Film & Video Festival in 1995. Out of 4,100 entries, this film won the "Finalist Award" category for the Best Documentary of 1994. Producer Karine Erlebach, Division of Audio-Visual Arts, Harpers Ferry Center (NPS) won an award for "Best Producer" (30 minutes).

Exhibits: Within the Visitor Center, take a walk through interim exhibits detailing a few of the many stories associated with the War in the Pacific.

Available Facilities: Museum exhibits and interpretive programs illustrate the events surrounding the Pacific War and the Battle for Guam. Film presentations are available in five languages: English, Japanese, Russian, Chinese, and Korean. Hours of Operation are 9 a.m. – 4:30 p.m.


Last updated: April 1, 2015