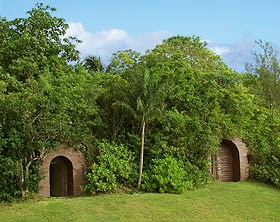 For Your Safety
War in the Pacific National Historical Park is a new and developing area and your safety and enjoyment are our main concern. You can ensure both by observing the following:
Do not enter any caves or tunnels. Some may contain hidden explosives. Do not open any sealed caves; it is illegal and dangerous.
Guam's warm climate, sandy beaches, and turquoise waters beckon visitors to discover the island's rich heritage. However, the tropical climate brings with it heat, humidity, and the potential for strong storms. The year-round temperature averages 27°C (80°F) and the ocean temperature a pleasant 27.2°C (81°F) May to November is the rainy season, and you can expect wet, hot, and humid days. Temperatures cool down from November through April, the dry season, and tropical trade winds are common. Typhoons can occur in any month, although they are more common during the rainy season. But don't worry: typhoons give ample warning of their coming and there is plenty of time to take shelter.
Park historic structures and military equipment are more than 70 years old and are very fragile. Do not disturb any of the historic ground features, such as foxholes, trenches, and bomb craters.
Please do not remove or mar the historic and natural objects beneath the water's surface. They are protected by law.
Most important of all: Do not disturb any ammunition that you may find on or off shore. It is extremely dangerous and may detonate at any time. Report its location to a ranger, who will have it removed by qualified personnel.