Guam Find Your Park Contest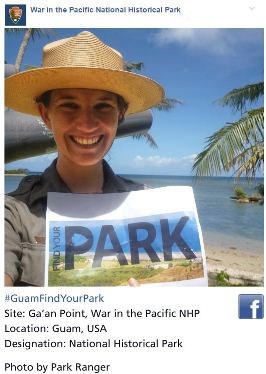 The Find Your Park Photo Contest invites and challenges you to get out into your national park. Once you are there, find your favorite part of the park and take a group photo or selfie with the
Find Your Park Asan Beach logo
! Please provide a high resolution image, including details as listed below to the War in the Pacific NHP. For a free Find Your Park sticker, print and bring the image into the T. Stell Newman Visitor Center to be displayed.
One photo will be featured at least once each month on the War in the Pacific NHP Facebook page. To enter in the contest, please email your photo to wapa_info@nps.gov or hashtag #GuamFindYourPark on Facebook to have it reposted on the timeline at facebook.com/WarInThePacificNHP. All photos will be entered to win Find Your Park Photo of the Year and will be featured in future content for the National Park Service Centennial.
By providing the National Park Service with your photo, you give consent that your photo may be used for future publications.
Last updated: May 6, 2015