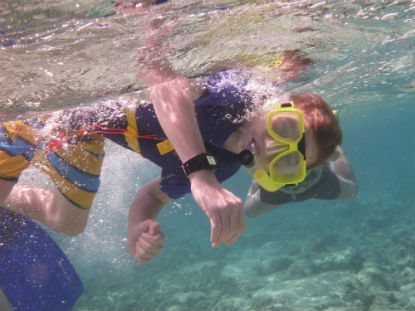 News Release Date:
May 1, 2014
Contact: Ben Hayes, 671-333-4051
This June and July, War in the Pacific National Historical Park will host the annual Reef Ranger Summer Camp. This free, dynamic program introduces a fun, safe, and exciting way to explore our island's coast and learn about marine science at Asan Beach.  Participants will learn to become stewards of our island's park and our environment.  Three one-week long sessions will be held from
June 16 to July 4, 2014
.  
The first session of the Reef Ranger Summer Camp is open to rising 9th and 10th graders.  During this week of leadership training, participants gain a greater awareness of the importance of conservation for our community.  They will earn CPR/AED & First Aid certificates, promote water safety, and serve as role models to younger campers during the second or third week session.  
The second and third Reef Ranger Summer Camp sessions are open to rising 5th and 6th graders.  Campers will engage in an exciting array of hands-on activities geared towards understanding the benefits of our coral reefs. Daily fun-filled experiences such as puzzles, games, snorkeling, experiments, and fieldtrips will encourage campers to make connections between their everyday actions and impacts on the environment.  
Be a part of this exciting FREE educational program that encourages youth to tune their senses to the awesome underwater world at their national park!
                                                                           – NPS –