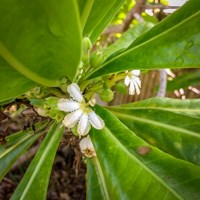 Half-flower is a shrub commonly found in coastal areas. It reaches 1 to 2 meters (4-6 ft) in height and spreads laterally with many branches. It tends to grow in thickets. The leaves are oval-like in shape and somewhat succulent. The fruit is white and slightly fleshy with a diameter of 1 cm (0.4 in). The conspicuous characteristic of this plant is also the reason for its English name – half-flower. The flower looks like a small daisy that has been cut exactly in half. The half-flower is made up of five small, white petals that are often streaked with purple.
Traditional Uses
Botanist William Safford, visiting Guam at the turn of the 20th century noted the Half-flower was not used as food, nor was the wood of value. According to local
suruhana
(traditional healer), Beatrice Nelson, the white, ripe fruit can be squeezed as drops into the eye to soothe inflammations.