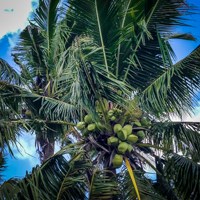 The coconut palm is easily recognized by its crown of feathery fronds and bunches of large nuts carried atop long, slender, and often curving, trunks. It is distributed throughout most of the tropical and subtropical regions of the world and is found near sea level in coastal areas. Height at 40 years of age is typically 20 to 22 meters (65 to 72 ft). Under cultivation, a palm can produce 50 to 80 nuts per year. The palms on Guam are currently threatened by an invasive insect, called the Coconut Rhinoceros Beetle.
Traditional Uses
The coconut palm is interwoven into the history of the CHamoru people more so than any of the other traditional plants. These trees provide the necessities of life – food, drink, oil, thatch, and animal feed. For this reason, the coconut palm is regarded as the "tree of life."
The meat of the coconut is grated on a wooden stool with a flat iron blade, called a
kamyu
. From the grated meat a rich cream or milk is expressed, which is used as an ingredient for native dishes. It can be combined in various ways with rice or boiled with fowl or other meat in a broth.
The water contained in the central cavity of young nuts can be drunk as a beverage. It was also found by medics in WWII to work as a suitable replacement for IV fluids when supplies were low.
Flower sap is collected to make a variety of useful products: syrup, sugar, yeast, vinegar, and beverages that range from cider to fermented toddy to a distilled run-like liquid.
At the turn of the century, copra or the dried meat of the coconut was Guam's only export crop. Large plantations in the coastal areas were established for copra production. It was used in Europe, chiefly in soap making, but also in the manufacture of certain food products. Coconut was also an important animal feed. The meat of ripe coconuts is grated and fed to pets and livestock. It is also used in the fattening of crabs.