Programs for Kids and Youth of all Ages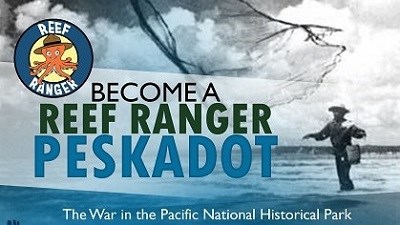 Peskadot Reef Ranger
program is a great opportunity for youths to learn about sustainable traditional fishing techniques practiced throughout Guam and the Western Pacific region. The kids will learn how to make decorative fishing lures, practice spears, learn talaya net throwing as well as participate in a rod and reel fishing derby. Dates and times of future programs will be announced in press releases and social media posts. For questions email kina_lewis@nps.gov, or call 671-788-9722 or 671-333-4050/51/55.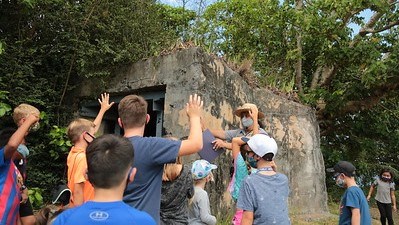 Field Trips and Outreach
Although we have an awesome visitor center, our park rangers are willing and eager to bring our staff, resources, and information into your classroom or meet you at one of our special park units! Please email us to schedule a visit.
All activities are subject to CDC and Guam DPHSS regulations.
For more information, visit the T. Stell Newman Visitor Center or email wapa_interpretation@nps.gov, or call 671-333-4050/51/55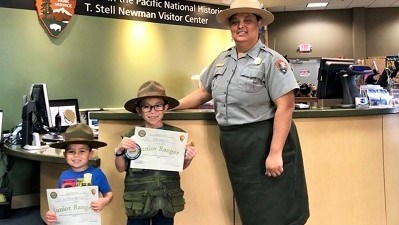 Wanted: Junior Rangers
Needed
:
Skill, cunning, and creativity
;
Expected
:
Exploration of park or park website
;
Required
:
Discovering the island's history, legends, and ecosystems
;
Promised
:
Honor and recognition as an official Junior Ranger upon your success.
The Junior Ranger book is filled with activities for all ages. Complete the activities, show your book to a park ranger, and be awarded a Junior Ranger badge! You may
download
our Junior Ranger book.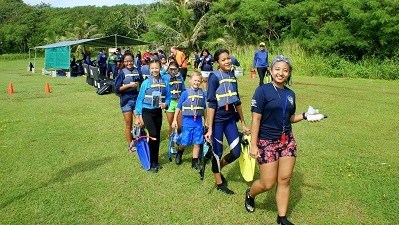 YCC Internships

The Youth Conservation Corps (YCC) is a well-balanced work-learn-earn program that develops an understanding and appreciation in participating youth of the nation's environment and heritage. YCC participants will engage in a wide variety of conservation and park operations activities that will teach them about our War in the Pacific National Historical Park and the National Park Service's mission to protect special places for all.
The 2022 YCC program will run from May 26 to July 29. Workdays are Monday –Friday from 8:00 AM to 4:30 PM. The wage is $9.25 per hour. This opportunity is open to citizens of the United States, Palau, Federated States of Micronesia, and the Marshall Islands. To apply, applicants must fill out an application and if not 18 years of age, have a parent's or guardian's signature. Selected applicants will be contacted, and program participants will be selected at random with equal numbers of men and women.
Applications can be downloaded from NPS Form 10-29, or a copy can be picked up from 9 am to 4 pm Tuesday, Thursday, and Saturday at our visitor center. Completed applications are due by April 22nd and may be emailed to e-mail us or dropped off at the visitor center:
T. Stell Newman Visitor Center
Bldg. 1657-B
Outside Main Gate of Naval Base Guam
Santa Rita, Guam 96915


Last updated: March 17, 2022