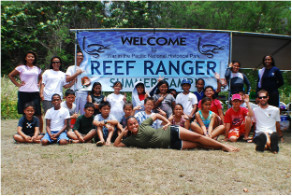 Reef Rangers
On Guam, we are constantly surrounded by the water. Through fun activities, students at Reef Ranger Camp learn that the world of the ocean and its diverse life is deeply linked to the world we experience on land every day - in fact, they are one. The camp is offered each summer for rising 5th & 6th graders.
Reef Rangers' success depends on our Reef Ranger Conservation Corps, enthusiastic, responsible 9th & 10th graders who are mentors and leaders. Want to join this fun group? July 18-29, 2016.
Click here for the application!