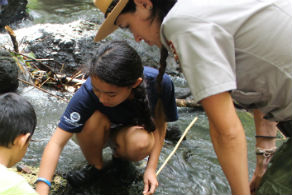 River Ranger Program
War in the Pacific National Historical Park and Pacific Historic Parks will host our annual River Ranger Program. This free, dynamic program teaches river ecology to children in 3rd and 4th grades. Through demonstrations, hands-on activities, lively group discussions, and personal interactions with plants and wildlife, youths are encouraged to look closer at their relationship with the environment and build on their knowledge of the natural world.

This year's River Rangers will be Saturday, March 18, March 25, and April 1. Applicants must register at the T. Stell Newman Visitor Center in advance. The registration period is from February 20 to March 13, 2017. The visitor center is located just outside the Naval Base Guam main gate and is open daily from 9:00 am – 4:30 pm. Download a registration packet here.