Fees & Passes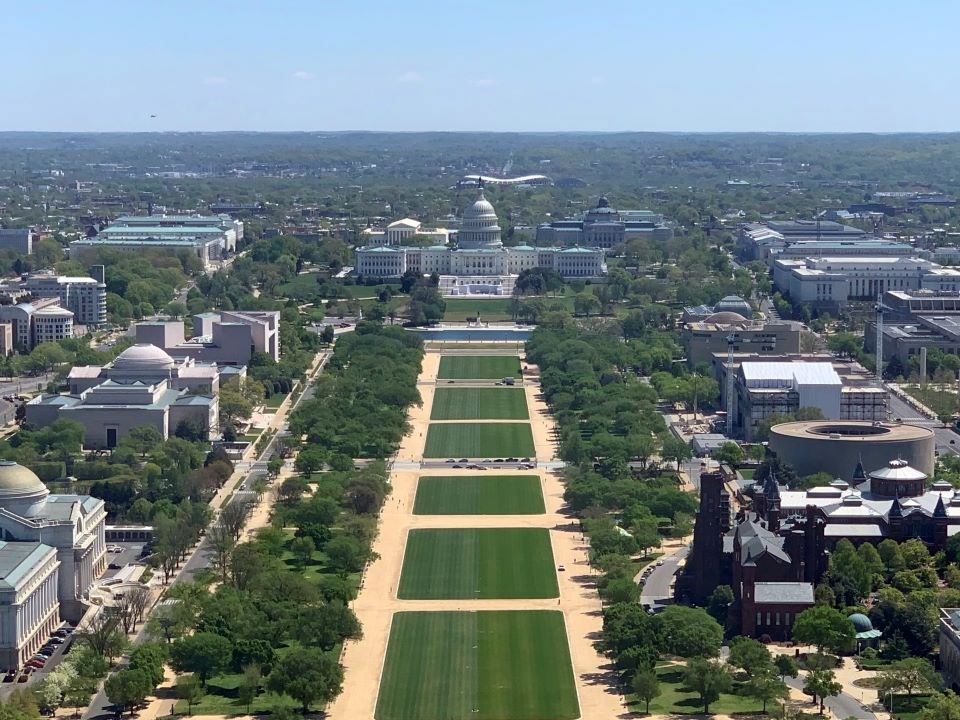 Visit D.C.'s Centerpiece!
Get a bird's eye view of the nation's capital from the Washington Monument, the nation's grandest memorial to the Father of His Country! Timed tickets are required to ride the elevator to the 500 foot observation deck and may be obtained in person or online:
Walk Up Tickets (Same Day Only)
The Washington Monument Lodge, located along 15th Street between Madison and Jefferson drives, opens at 8:45 a.m. for distribution of free, same day, timed tickets on a first-come, first-serve basis. One person may obtain up to six tickets as well as request their preferred ticket time. All visitors (including children ages 2+) must have a ticket to enter the Washington Monument. During peak season, tickets run out quickly. Be advised that many visitors form a line to wait long before the ticket window opens.
Online Advance Tickets
30 Day Advance Reservations - Order tickets online up to a month in advance of your visit. Inventory for the next available day (30 days out) becomes available at 10 a.m. each morning (e.g. - on May 7 at 10 a.m., tickets will become available for visits on June 6).
24-Hour Advance Reservations - Didn't get tickets in advance or planning a last minute visit? A limited number of additional tickets are made available at 10 a.m. each day for the next day's visits (e.g. - on May 7 at 10 a.m., tickets will become available for visits on May 8).

Both 30 Day Advance and 24 Hour Advance reservations may be made at recreation.gov or by calling 877-444-6777. Though there is no admission fee for the Washington Monument, there is a $1.00 service charge per ticket to cover reservation service; these fees are NON-REFUNDABLE. Ticket availability is limited and all tickets for a given day are often reserved the day they become available.
Group Tickets (Online Only)
Groups may reserve up to 55 tickets up to 30 days in advance at recreation.gov ONLY. No walk ups are available for group tours. There is a $1.00 service charge per ticket to cover the reservation service.
Advisories


The waiting area is outdoors and exposed to sun, wind, ambient temperature, and precipitation. No bathrooms, water, food, or other amenities are available inside the Washington Monument. The nearest restrooms are in the Washington Monument Lodge, located at the bottom of the hill to the east of the monument along 15th Street.
Visitors who are uncomfortable with heights, enclosed spaces, crowding, and elevators should consider that the Washington Monument involves all these factors.
For your safety, the Washington Monument may be closed for unsuitable weather conditions including high wind and thunderstorms. Tickets will be voided for the affected entrance times.
The Washington Monument is closed one day during the first week of every month for routine maintenance activities. In 2022, the closure dates are: January 4, February 1, March 1, April 5, May 3, June 1, July 5, August 2, September 1, October 4, November 1, December 1.
What to Expect During Your Visit:
Signs posted outside the Washington Monument indicate the waiting areas for specific entry times. The waiting area is located on the east side of the Washington Monument inside the circle of flags. Park rangers will direct you to the security screening area in small groups. All visitors are subject to security screening. Weapons, strollers, and bulky items are prohibited. Wheelchairs are permitted. For a full list of restricted items click
HERE
.
You will be directed to the Washington Monument's ground floor lobby. A park ranger will help you board the elevator for the express ascent to the top floor 500 feet above the ground. The ride lasts approximately 70 seconds. There is no time limit on the observation level. When you are ready to return, walk down one flight of stairs to the 490 foot level where you will board the elevator for the return trip. You can browse the small museum with exhibits about the history of the Washington Monument while waiting for the elevator.
Last updated: April 7, 2022