Park Store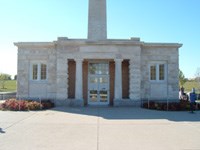 America's National Parks Stores are at sites around the National Mall. They are operated by Eastern National, a cooperating association of the National Park Service. They sell books, gifts and many educational materials. Eastern National operates many other bookstores at national park sites throughout the country. Proceeds from sales support National Mall and Memorial Parks and other national parks.
Bookstore Hours:
Hours are subject to change without notice.

Washington Monument Lodge is located on 15th Street.
9 am - 6 pm year-round
Other Locations:

Franklin Delano Roosevelt Memorial store
9 am - 6 pm Labor Day to cherry blossom season
9 am - 8 pm Cherry blossom season to Labor Day

Lincoln Memorial store
9 am - 8 pm Labor Day to Memorial Day
9 am - 10 pm Memorial Day to Labor Day

Martin Luther King, Jr. Memorial store
9 am - 8 pm year-round

Thomas Jefferson Memorial storesChamber store: 9 am - 8 pm year-round
Lower level store: 9 am - 8 pm (closes at 6 pm October 1 until cherry blossom season)



Last updated: February 5, 2020