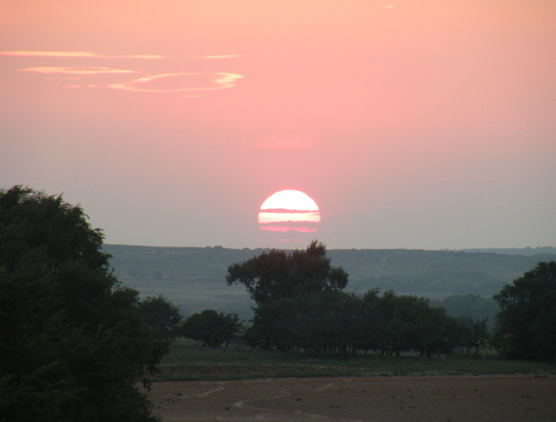 News Release Date:
May 17, 2012
Solar Eclipse Viewing at Washita Battlefield National Historic Site
On Sunday, May 20th, many western United States' National Park sites, including Washita Battlefield NHS, will be wonderful places tosee the first solar eclipse in the United States in 18 years.This unique opportunity is expected to occur before sunset at 8:33pm CST, and will be visible as the moon's silhouette will be surrounded by a bright thin ring of sunlight creating a "ring of fire" effect known as an Annular Solar Eclipse. The annular eclipse will be much brighter than a total eclipse, therefore, it is advised to never look directly into the sun during this event, or it may cause eyesight damage. Everyone viewing this event must have eye protection.  Rangers will help visitors safely view the solar eclipse by providing solar-filtered "eclipse" glasses. A telescope will also be set up to assist in viewing.
 "Alone, the Night Skies at Washita are gorgeous, but to be able to experience and share this rare opportunity with our visitors at the park, will be even more spectacular!" said Superintendent Lisa Conard Frost. The park is inviting visitors to meet at the Washita Park Overlook at 8:00pm. The Overlook is located one-half mile west of the Visitor Center on Highway 47A.
 According to Chief of Interpretation Frank Torres "This will be a nice prelude to future Night Sky programs, which are now under development and will be an added feature to the interpretive operations at Washita". For more information in preparation for the Annual Solar Eclipse, please visit https://www.nature.nps.gov/features/eclipse/index.cfm or contact the park at (580) 497-2742.