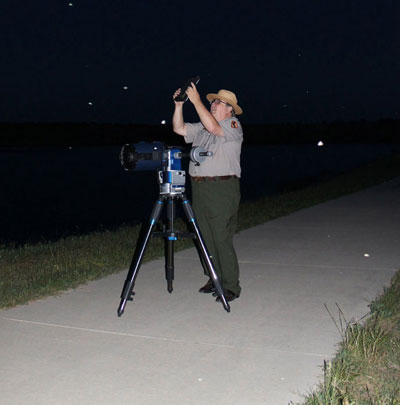 News Release Date:
August 19, 2014
Contact: Barbara Ford, 580-497-2742 ext. 3013
Is your telescope collecting dust or looking at a dusting of stars in the night sky?  Whether you are a veteran star-gazer or looking at the night sky for the first time, Washita Battlefield invites the public to our first ever Night Sky Program on Sunday, August 31. 
This last segment of the Summer Lecture Series, will feature Ranger Don Yates and his Nightscapes program followed by a star-gazing event.  Ranger Yates will speak in the Washita Battlefield National Historic Site visitor center theater beginning at 5:00 pm.  During this time, children will have the opportunity to become a "Junior Ranger Night Explorer." A light dinner will be served before the star party participants make their way to the viewing area. 
All party goers should be at the viewing area by 7:00 pm. Keep in mind late arrivals may interfere with others' night vision.   Ranger Yates will present Messing with Messier to introduce the telescopes and sky and by 8:15 pm Saturn and Mars can be seen.  The star viewing will take place at Black Kettle Grassland Croton Creek Wildlife Viewing Area approximately 8.5 miles from the park visitor center.  Directions and details will be given during the speaking portion of the program in the theater.
A special invitation is being extended to Astronomy Clubs and college students. Rangers encourage BYOT, bring your own telescope, but there will also be telescopes provided by the park.  Please bring flashlights to navigate in the dark.