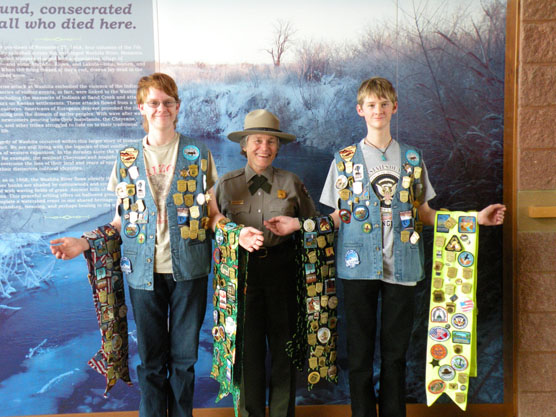 News Release Date:
April 5, 2013
Contact: Kathryn Harrison, 580-497-2742
Nicholas and Kendall Schroeder from Broomfield, Colorado included Washita Battlefield National Historic Site as part of their itinerary for their Spring Break vacation. Over the years, the brothers have been participating in the Junior Ranger programs at many National park sites. They visited Washita on March 27 to add yet another badge to their collection. So far each brother has earned 166 badges. Prior to visiting Washita, the family visited Lake Meredith National Recreation Area and Alibates National Monument.
Mrs. Schroeder loves scrapbooking, and has scrapbooked all their family trips to America's National Parks. In fact, Nicholas used one of his mother's scrapbooks as part of his presentation before a National History Day panel for which he won a special award.
Now 17 years old, Nicholas began his quest of Junior Ranger badges at Great Sand Dunes NP when he was three years old. His favorite park is Zion, "I love the backcountry there," he said. When Kendall was two years old, he got his first Junior Ranger badge at Yellowstone NP. "I had some help with that badge," he smiled. He's now 14, and his favorite park is Redwoods NP in northern California. "I am fascinated by all those big trees."
On Saturday, April 20th Washita Battlefield National Historic Site will be hosting Junior Ranger Day. This will be a great opportunity for kids of all ages to begin their own journey of exploring, protecting and learning about "America's Best Idea."
* * *
Washita Battlefield National Historic Site protects and interprets the setting along the Washita River where Lt. Col. George A. Custer led the 7th U.S. Cavalry on a surprise dawn attack against the Southern Cheyenne village of Peace Chief Black Kettle on November 27, 1868. The attack was an important event in the tragic clash of cultures of the Indian Wars era. The site is located in western Oklahoma near the town of Cheyenne, halfway between Oklahoma City, Oklahoma and Amarillo, Texas. The park's new visitor center is located one mile west of Cheyenne on Highway 47A. For more information, call 580-497-2742 or check www.nps.gov/waba.