Stories from the Elders Presents Cheyenne Elder Eugene Blackbear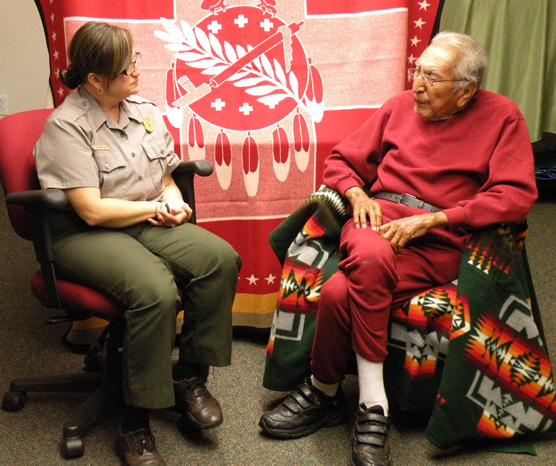 News Release Date:
February 17, 2012
Cheyenne elder Eugene Blackbear, Sr. to present Stories from the Elders program at Washita Battlefield National Historic Site 
Washita Battlefield National Historic Site is pleased to announce that for the final segment of the Stories of the Elders program on Friday, February 24, Cheyenne elder Eugene Blackbear, Sr., a descendant of Washita, Sand Creek Massacre and Little Bighorn will be the featured storyteller.
"Mr. Blackbear is a highly regarded tribal elder, and we are honored that he will be with us," said Chief of Interpretation Frank Torres. He went on to say, "This is a wonderful opportunity for everyone to hear Cheyenne stories as told by a master storyteller."
Stories from the Elders will take place for three consecutive Fridays, February 10, 17, and 24 from 3:30 until 5:00 in the park's visitor center. Everyone is cordially invited to join us for this time of fun, warmth, hot chocolate and cookies during the winter of the Snow Moon! For more information, please contact Kathryn Harrison at 580-497-2742.