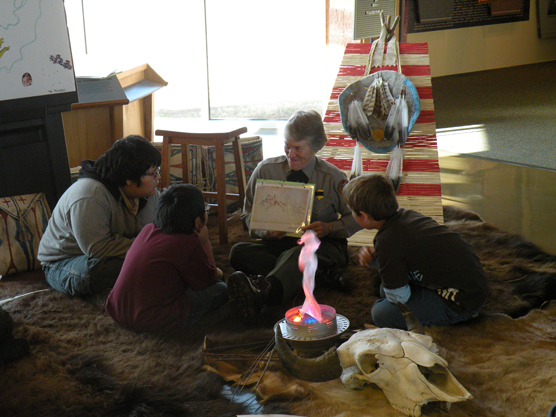 News Release Date:
February 3, 2012
Winter was the time for story-telling among the Cheyenne and Arapaho tribes. Because there was no written language, the only way that the tribe's culture and legends could be passed down to the next generation was through the words of a story teller. Their stories were meant for teaching and enjoyment and usually told during the cold winter evenings. Washita Battlefield National Historic Site will host three educational programs at the park's visitor center during the month of the Snow Moon (February).
Old man winter may be howling outside, but inside around the campfire from 3:30 until 5:00 it will be a time for fun, warmth, hot chocolate and cookies! Come join us for Stories from the Elders! For more information please contact the park's visitor center at 580-497-2742.
Schedule of story times:
February 10
Pre K - 3rd Grade
Listen to a story
Play the Plumb stone game and win a feather!
 February 17
4th - 6th Grade
Listen to a story
Make your own Warrior shield
 February 24
7th - 8th Grade
Listen to a story
Make a winter count or Warrior mask