Sand Creek Massacre 150th Remembrance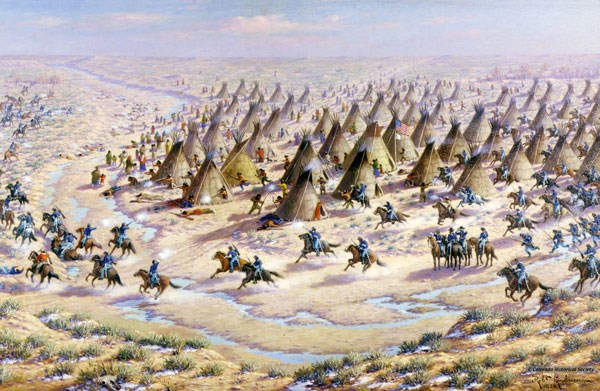 Almost four years to the day before the fight along the Washita, on November 29, 1864, approximately 675 U.S. volunteers commanded by Colonel John Milton Chivington attacked a village of about 700 Cheyenne and Arapaho Indians along Sand Creek in southeastern Colorado Territory. Using small arms and howitzer fire, the troops drove the people out of their camp. While many managed to escape the initial onslaught, others, particularly noncombatant women, children, and the elderly fled into and up the bottom of the dry stream bed. The soldiers followed, shooting at them as they struggled through the sandy earth. At a point several hundred yards above the village, the women and children frantically excavated pits and trenches along either side of the streambed to protect themselves. Some adult men attempted to hold back the Army with whatever weapons they had managed to retrieve from the camp, and at several places along Sand Creek the soldiers shot the people from opposite banks and brought forward the howitzers to blast them from their improvised defenses. Over the course of eight hours the troops killed around 200 Cheyenne and Arapaho people composed mostly of women, children, and the elderly.
Sand Creek is the precursor to the failure of future treaties and ongoing Indian raids as a result of those failed treaties that eventually led to the fight on the Washita.
This November Sand Creek National Historic Site will commemorate the 150th anniversary of this horrible day in our history.
Sand Creek Massacre 150th Remembrance

Schedule of Events - Nov. 29, 2014
From April 1 to November 30, the park is open every day from 9am to 4 pm.
From December 1 to March 31, the park will be open weekdays from 9:00 am to 4:00 pm. Staff may open the park on weekends by appointment;please allow one week advance notice. Call 719-729-3003 ext. 0 on any weekday from 9-4 to make an appointment. Please note that weekend availability is not guaranteed due to staffing limitations.
Last updated: February 24, 2015